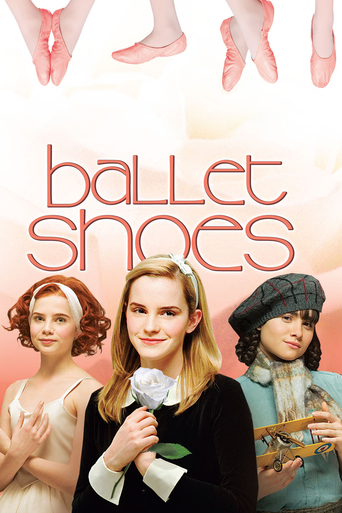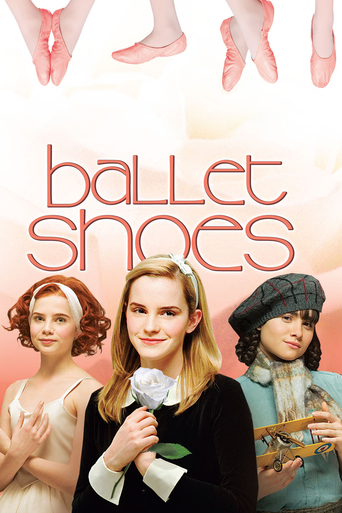 Ballet Shoes
August. 26,2008 PG
AD: This title is currently not available on Prime Video
An unusual explorer named Gum and his kindly niece adopt three orphans -- Pauline, Petrova and Posy -- and raise them as sisters in 1930s London. But the girls must fend for themselves when Gum doesn't return from one of his adventures. Together, they nurture their passions for acting, aviation and ballet in this charming TV adaptation of Noel Streatfield's novel.
Reviews
I saw this movie about a year ago and watched it just recently. I have to admit the only reason I decided to even watch this was because of the lovely and just beautiful Emma Watson. What can I say I am a guy. Why else would I watch this?I had seen Emilia Fox before and Victoria Wood. Overall it had a good ensemble and decent acting. This was Emma Watson's first role outside of Harry Potter as far as I know. Although her character is portrayed as a bit selfish and cocky in the beginning of the movie, we get to see a girl who becomes sweeter and begins to care about others at the end. Her character Pauline is actually very insecure and Watson does some good work crying in the movie and showing all the appropriate emotions that are called for. My favorite part of hers is when she snaps at Victoria Wood for leaving her wrap in the wings, then she breaks down and sobs as she is running a tub while talking to Petrova.The little redhead Posey is a brat and plays a brat, and Petrova is more or less a sweetheart who seems kind. The wardrobe and the recreation of the time period of the 1930s is all well done and has a nice feel to it.I have to say that the ending kind of came suddenly with kind of a real lack of emotion. I was hoping for something more touching and less anti-climatic.It is a nice story for young children, especially girls. And that the movie teaches that with hard work, caring about family and putting them first, and believing in yourself that dreams can in fact come true. The DVD has special features with about a twenty minute or so interview with Emma Watson herself talking about why she took on the project, and what it was like working with the other actors, and her insight on the movie which I found delightful. The interview reveals she is not only beautiful, but is a very well spoken intelligent sweet young lady. I hope to see much more of her in independent, interesting roles in the years to come. 8 stars out of 10 for ballet shoes. Bravo!
... more
I was able to see this on Netflix streaming movies. I was interested mainly because Emma Watson is in it, right in the middle of the many Harry Potter movies. I was curious to see how she acted in a quite different role, and she did very well.It is set in 1930s London and the costumes, makeup, and cinematography give it an authentic 1930s feel. A nice gentleman who seems only to explore the world inherits a young niece whose parents drown, and as she grows to young adulthood gradually 3 more girls are added. She becomes the legal guardian of them and sees to it that they grow up polite and successful. The younger girls are given the last name of Fossil.Emilia Fox is the guardian, Sylvia Brown. Emma Watson is Pauline Fossil. She is the oldest of the 3 younger orphans and develops with an interest and a flair for acting.Yasmin Paige is the next as Petrova Fossil. She is the left-brain one, more interested in science and particularly aviation. And the youngest, who was my favorite actress here, is red-head Lucy Boynton as Posy Fossil. The only thing she brought with her as a baby were ballet shoes, and with that apparently in her blood becomes obsessed with being a world-famous ballerina.Fine British character actor Richard Griffiths is the Great Uncle Matthew, affectionately called 'GUM'.This is a very nice, pleasant PG movie. It shows the bonding within a family unit when none of them are actually related to each other. It also shows how children can become 'bratty' when they get the big head of success. In the end everyone seems on a very happy track in life.SPOILERS: Sylvia is having a difficult time keeping up with the expenses of Gum's house, and no one has heard from him in 12 years. So she has him declared dead and sells the house. Soon after that he shows up, at the same time that Pauline is offered a movie contract that requires her to move to Hollywood. She is hesitant but does it so that she can help Posy afford to travel to a school for ballet. It turns out Gum had become friends with a famous female pilot who taught him to fly in Argentina, and he teaches Petrova. And to top it all off the nice male boarder marries Sylvia and they head to Hollywood to be with Pauline.
... more
Having loved the book growing up, I was bound to see this. I had bought the 1975 BBC version and found it to be absolutely terrible, as it completely mishandled the adaptation. What is surprising is that the 1975 version ran longer and could be argued as being more faithful to the book. Having said that, this version of Ballet Shoes captures the spirit of the story much better. I loved Emilia Fox's Sylvia and the entire cast did very well. I had been a little apprehensive of Emma Watson as Pauline since I'd never seen her as anything but Hermione from the Harry Potter series, but I was pretty happy with the performance after all. I won't recap the story here, but basically; I love the book, and the movie brought out the reasons why I loved it, so that's good enough for me. I hope you all enjoy it too.
... more
Yes, I wanted to watch this movie because of Emma Watson. She is a few month older than I am and I've liked Harry Potter since the first movie came out. Well... Now I'm 17 and I'm not really interested in Harry Potter anymore, but I'll still watch the other movies after they come out.I've never red "Ballet Shoes" nor heard of Noel Streatfeild. I am not from the UK so don't judge me for that. After watching this movie, I'm going to see if I can find this novel, the movie was really interesting.At first, I thought Emma is horrible and she has so little screen time and I expected so much more... but after the first 20 minutes, I was thrilled with the story and I completely forgot I was watching it for Emma's performance. I almost forgot it was Emma at all. She did a good job acting, she really got out of Hermione, considering this is her first role apart from Harry Potter. I am sure she will be even better in the future, if she will be playing different characters.The rest of the cast was good, also, I really liked Emilia Fox and I've never seen anything with her before. The director did a really good job and the costumes were wonderful. The feelings the movie sent me were also powerful, I've never shed a tear during a movie in years....
... more