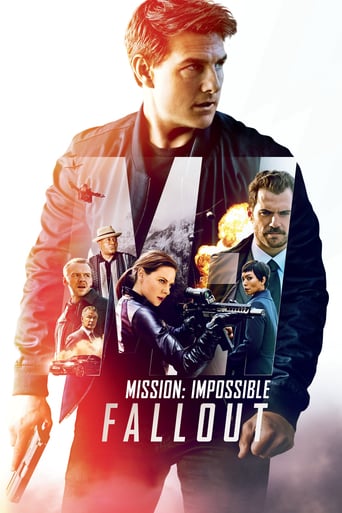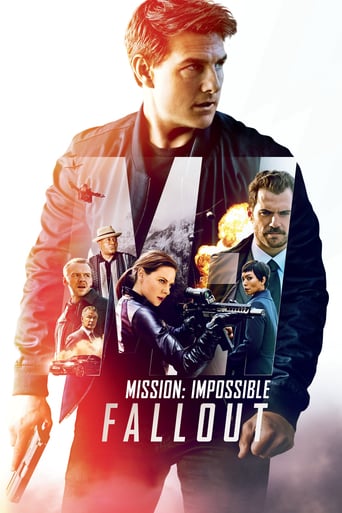 Mission: Impossible - Fallout
July. 13,2018 PG-13
When an IMF mission ends badly, the world is faced with dire consequences. As Ethan Hunt takes it upon himself to fulfill his original briefing, the CIA begin to question his loyalty and his motives. The IMF team find themselves in a race against time, hunted by assassins while trying to prevent a global catastrophe.
Reviews
MI getting better and better. Action are perfectly choreographed No CGI
... more
Just saw the movie the other day and it's pretty nice.clean cut continuation of the 5th movie sequel and a dramatic ending til the last second.
... more
Much worse than MI1 and even worse than the sequels. It's rating should be closer to 6.0. Plot is laughable even for the typical action movie, fight scenes are plain bad and special effects are not that good.
... more
Mission Impossible: Fallout was no doubt the best movie I've seen from this year. This movie was completely breathtaking. Very little have I been awestruck by action to the point where I'm physically excited. This movie is so real and exciting that it's one of the best theater-going experiences I've ever had. But it's not perfect. The plot is definitely labyrinthine. Several times I felt myself behind on the plot, wondering who's who working for what organization. But that's also partly my fault, since I'm not invested in the Mission Impossible franchise, and don't know too much about the history of the films. But this movie is written in such a way that you don't need to know anything. The plot isn't the focal point, it's the incredible action. Every sequence is expertly directed and choreographed. They're so well done that they're some of the best I've seen. Sure, the film's very long, but literally, 20 minutes of the movie is one of the most unforgettable action sequences I've ever seen, up there with The Dark Knight's Harvey Dent chase scene, Children of Men's one take roaming shot and The Matrix's hallway scene. Plus the fact that a lot of it was REALLY done just adds to my amazement. Just a fantastic movie you really should see. My only fear is that, since the plot isn't there, it may become forgettable in the future. But it's still a great movie. Tom Cruise is phenomenal and you've got to respect him for doing his own stunts. Henry Cavill is great and perfect in his role. Ving Rhames is amazing, as always. And everyone else is great. 4/4!
... more