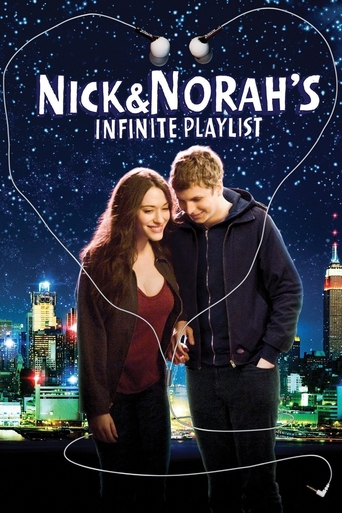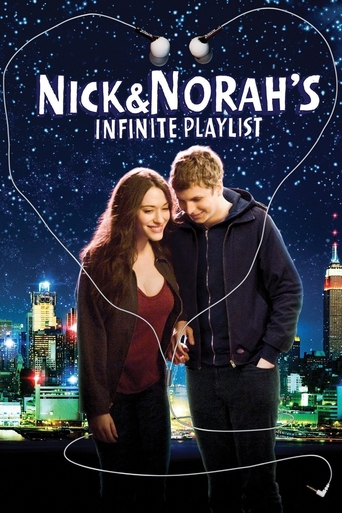 Nick and Norah's Infinite Playlist
October. 03,2008 PG-13
AD: This title is currently not available on Prime Video
Nick cannot stop obsessing over his ex-girlfriend, Tris, until Tris' friend Norah suddenly shows interest in him at a club. Thus beings an odd night filled with ups and downs as the two keep running into Tris and her new boyfriend while searching for Norah's drunken friend, Caroline, with help from Nick's band mates. As the night winds down, the two have to figure out what they want from each other.
Reviews
And Kat denning is an absolute delight. Nothing bad happens and the supporting cast is very strong. Story holds up quite well and moves along with very few dead spots. Well worth the time, and the little bit by jay baruchy allel is dead on. great effort by all
... more
A lonely and sad wannabe musician accidentally meets a girl, similar to him, with whom he slowly falls in love. Their adventure takes place during a very busy night in which both were searching for a hard to find concert. A lot of difficult and awkward situations take place but the two manage to keep it together, while their feelings for each other get more and more powerful.It's an enjoyable story which features a combination of emotion, laughter and drama. The two get together nicely although they seem to have nothing in common, and until the end, they manage to overcome their fears and let love take its course. As a downside, it is a bit too superficial in many aspects while inserting some boring and predictable moments from time to time. It ends well so I will recommend it especially to teen movie lovers.
... more
I really enjoyed this film.I wasn't an indie band fan when I was a kid, and I never lived in NYC, and gay culture wasn't nearly so commonly accepted in the 80's, but I definitely remember one or two nights like Nick & Norah's. -That is, being shy and confused and alive and in love and following a bizarre series of events with little meaning until dawn, doing stupid things with friends because I had the energy and, 'it felt right at the time'. -I remember euphoric madness warring with the pull to be adult and responsible. This film captured that well, I thought.I feel like I knew those people.Yes, yes, yes, this film *was* filled with cliché. Real life has more subtleties and layers, and with smart people it also contains a meta-awareness, a self-observation. But I think this film WAS the meta-awareness and self-observation. -It had a need to pull a bunch of brief and random treasures together into a 90 minute narrative. (Treasures like sidewalk gawkers cheering when the car door was unlocked; Observations likely collected from genuine experiences). I can forgive a bit of contrivance to get that job done, especially when the treasures were sweet and the contrivances were smooth and earnestly performed.But here's a strange thing: I notice that this film has touched more than one nerve or two; there are some very strong reactions in the reviews for this movie which don't seem to stem from legitimate literary criticisms, but rather something more personal. -Which seems odd, given that nothing terribly intense happened. With the exception of a couple of garden-variety selfish jerks, the characters were quite harmless and kind.Anyway, I'd give this film a chance. It may strike a chord with you, as it did with me. If it doesn't, well.., just stop watching.
... more
The story is pretty simple, very lovely, quite teener-ish, but the movie is so well made, the characters are so real, the acting is great, and the music is just INCREDIBLE, that it transforms what could have been a dull movie into an amazing one!Michael Cera is an incredible actor and so is Kat Dennings. They play their insecure, fragile teenager's role like true pros; everything about them is completely authentic and absolutely believable, having subtleties that make you identify with them and feel what they are feeling.It contains no explicit sex, no violence, it's apt for young teenagers. I don't think kids will enjoy it. thumbs up for this movie, totally loved it.
... more