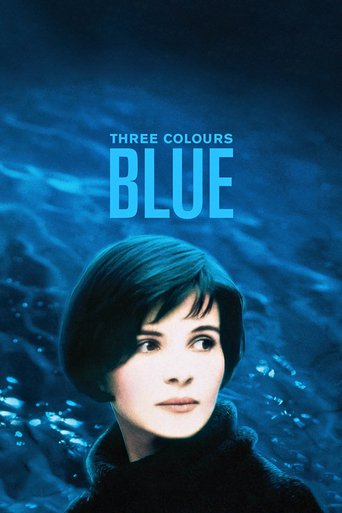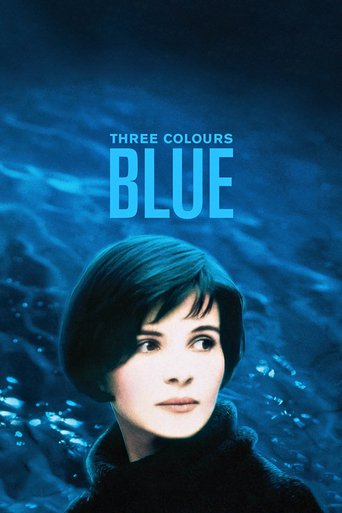 Three Colors: Blue
January. 10,1993 R
AD: This title is currently not available on Prime Video
A woman struggles to find a way to live her life after the death of her husband and child.
Reviews
WARNING: THIS REVIEW ALSO CONTAINS SPOILERS ABOUT THREE COLORS: RED AND THREE COLORS: WHITEBlue was a beautiful film. As I have seen all three colors by now, I have realized how kind this entire series is. All the characters are stuck somewhere in their lives, and at the end of Three Colors Red, they all stay alive after a ferry accident which shows that, in a way, they got unstuck and life still goes on.Blue is about a woman who loses her husband and daughter. I loved it how her pain is not cinematically over exaggerated as many directors would have done. It was shown in simple and non close-up ways, such as Julie swallowing medical pills but spitting them out, because she simply could not do that. I think that's why I say this movie was so kind - because it was extremely honest. I believed Julie's reaction to her husband's mistress, I believed her character, and all else about her.I liked the use of the color blue in here. It was Julie's color. Especially the jar hanging from her ceiling and the blue of the pool. Those colors represented her inner world for me: very calm, but at the same time radiant.I loved how Julie felt the music. There was a black screen, music - and then we were thrown back into the world in the same place and time where we were left. This is quite a unique cinematic technique, as fade to black usually means a change in scene.And in general, the music here was magnificent.One thing I noticed is that in all three films of colors, something life changing first happens to the characters, and later they make an unexpected decisions, that leads to the situation of being stuck to ease out a little bit...
... more
I cannot be sure that Kieslowski cared much for the script of this film; otherwise he would not have made this 2-act film drawn out into the length of a 4-act. The symbols are there, elegantly shot perhaps, but not elegantly placed; the black screens and musical outbursts are overdone and obtrusive, to say the least. And when the widow, (shall we call her Ms. Blue? I don't remember her name) Ms. Blue, is given the cue for reflection (such as when waiting in the dark for an entire minute, deliberating on whether to open her apartment door to check on the remnants of a street fight), the actress "reflects" well -- but to what end? We get the feeling that Kieslowski is making a feature film from the pieces of a short film (what would be a fantastic short film!) and must slather a coat of cinematic, slow "art house" "reflective" paint over the missing pieces to hit a 80+ minute running time. Perhaps to make the film eligible for awards.It is a wonderful film, especially visually; unforgettable are the ultramarine swimming pool and a sugar cube absorbing coffee. But sugar cubes and swimming pools alone don't make for a feature film. The dramatic weight just isn't there, and the freshness of the visuals certainly don't mend the paucity.
... more
I don't think I can emphasise how much I adore world cinema, an innocent pleasure vindicated by the 1993 French film Three Colours: Blue. Starring Juliette Binoche, the film treats us to a dreamy snapshot into human remembrance and existence, forcing us to meditate on our own experiences of life. The intelligence and reverie that Three Colours: Blue exhibits should convince anyone how world cinema, dare I say it, is superior to most of the films produced by Hollywood these days.Although I hate the fact that years of English and Drama studies have hardwired my brain to view everything as symbolically as possible, I will admit that the emblems and symbols presented in the film are simply astounding. What is particularly enticing is director Krzysztof Kieślowski's ability to utilise symbols in not only objects and locations, but in film techniques as well. The smooth tripod movements and natural lighting emphasise our stability as observers of Julie's story. I don't intend to bore you with the multitude of symbols in this film, but I will mention perhaps one of the most memorable scenes in the film. As Julie swims through the ghostly blue waters of the pool, her introspection brings her to one of the core messages of the film - no matter how hard we try to suppress bad memories, we are inevitably confronted and challenged by our past.Now, allow me to examine the story without a gratuitous analysis of symbolism that could make me sound all too posh. I think the film has a strong opening that is laden with mystery and coldness that conveys how we are both observers and participants of the narrative. Julie's journey throughout Paris brought me back a feast of memories, ranging from the solitude within cafés, to inhaling the sights and sounds of Parisan streets, and ascending through the labyrinthine staircases of apartments. I should also mention that the relationship between the story and soundtrack cleverly represents the various psychological states of Julie, with the lonely piano phrases emphasising her isolation, while the pan-flute of the busker symbolises the mystery surrounding life. Although I applaud the filmmakers' exploration of issues such as solitude and suicide, the biggest let-down for me was the fact that the film had a slow pace despite its 94 minute runtime. However, if you consider yourself to be a patient movie goer, this shouldn't be an issue for you. Despite this small crack in the armour, I was impressed with the cerebral, poetic and misty experience of watching Three Colours: Blue, and I found it to be a good film to end the week with.
... more
For cinema lovers this is an incredible movie , Juliette Binoche plays one of the best roles in her lifetime i think. The movie is great, and watching it many times is a must to understand all the hints of the Great director Kieslowski. Amazing picture , every cadre in the scene is beautiful well thought off and very meaningful.Even though this movie is within the frame of a three-movies series , i personally happen to admire this one the most . However , the other three , three colors white and red are also incredible movies. They are almost at the same high point of being interesting. Simply i believe anything of Kieslowski the director is great , he's an amazing talent that one must follow and apprehend.
... more