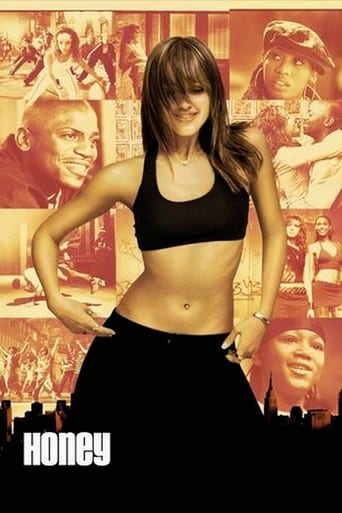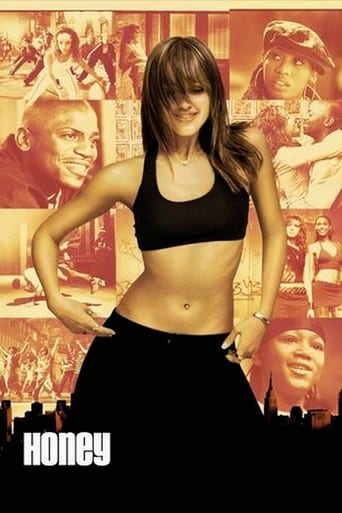 Honey
November. 24,2003 PG-13
AD: This title is currently not available on Prime Video
Honey Daniels (Jessica Alba) dreams of making a name for herself as a hip-hop choreographer. When she's not busy hitting downtown clubs with her friends, she teaches dance classes at a nearby community center in Harlem, N.Y., as a way to keep kids off the streets. Honey thinks she's hit the jackpot when she meets a hotshot director (David Moscow) who casts her in one of his music videos. But, when he starts demanding sexual favors from her, Honey makes a decision that will change her life.
Similar titles
The Boy Next Door
A recently cheated on married woman falls for a younger man who has moved in next door, but their torrid affair soon takes a dangerous turn.
The Boy Next Door
2015
Passion
The rivalry between the manipulative boss of an advertising agency and her talented protégée escalates from stealing credit to public humiliation to murder.
Passion
2012
Footloose
City kid Ren MacCormack moves to a small town where rock 'n' roll and dancing have been banned, and his rebellious spirit shakes up the populace.
Footloose
2011
This Is It
A compilation of interviews, rehearsals and backstage footage of Michael Jackson as he prepared for his series of sold-out shows in London.
This Is It
2009
Shine a Light
Martin Scorsese and the Rolling Stones unite in "Shine A Light," a look at The Rolling Stones." Scorsese filmed the Stones over a two-day period at the intimate Beacon Theater in New York City in fall 2006. Cinematographers capture the raw energy of the legendary band.
Shine a Light
2008
Hairspray
Pleasantly plump teenager Tracy Turnblad and her best friend Penny Pingleton audition to be on The Corny Collins Show and Tracy wins. But when scheming Amber Von Tussle and her mother plot to destroy Tracy, it turns to chaos.
Hairspray
2007
The Nines
A troubled actor, a television show runner, and an acclaimed videogame designer find their lives intertwining in mysterious and unsettling ways.
The Nines
2007
Walk Hard: The Dewey Cox Story
Singer Dewey Cox overcomes adversity to become a musical legend.
Walk Hard: The Dewey Cox Story
2007
Alvin and the Chipmunks
A struggling songwriter named Dave Seville finds success when he comes across a trio of singing chipmunks: mischievous leader Alvin, brainy Simon, and chubby, impressionable Theodore.
Alvin and the Chipmunks
2007
El cantante
The rise and fall of salsa singer, Héctor Lavoe (1946-1993), as told from the perspective of his wife Puchi, who looks back from 2002.
El cantante
2006
Reviews
I watched this movie because it was kind of... on... I knew I would regret it but I spend too much time trying to avoid awful movies so I thought "Time for a change". Big mistake. The movie is totally clichéd and totally unbelievable. "Honey" (sister of Peanut Butter and Strawberry Jam) is so ditzy she would not have stood a chance against the ghetto culture she is up against. She is 'attacked' by a gang leader but kind of... walks off... and then jokes about buying some mace. Wow! I wish more ghettos were so covered in marsh-mellows and honey-flavoured-muffins! Good to see a rap movie staying so true to its culture.The emotional manipulation in this movie is just nauseating - she attempts to help a kid getting involved in gangs by getting him a hair cut. Good job Jess: you've shown him what important; heaven forbid that he grows up thinking that only looks matter. Her final advice to him is just genius: "Don't go back there." This movie should be a used as a textbook for social workers: It has single-handedly solved the problems of child delinquency and gang warfare.Toward the end of the movie, the 'bad guy' fires all the kid dancers (after a truly ridiculous set-up) and then then "Honey" feels sick and nauseated as a black dancer gyrates next to a car. What?!? She has just *directed* and *choreographed* whole sequences of lewd trashy dances, and now she takes the moral high ground? Reflect on this: the movie is morally bankrupt, but it hides this from the audience under a thin veneer. "Honey" builds a career by objectifying women and flinging them around half-naked in front a camera like pieces of meat. But that's OK 'cos shes fulfilling "Her dream on her terms." Yeah good.I know! Let's really save the movie by starting a charity to get young kids to learn how to be sex slaved media whores in (c)rap music videos! That will really tug at the heart strings of the prepubescent audience who fantasise of being a sing-star. Heaven forbid we do anything to complicate or question their rancid desires which will only lead to heartache. Let's pander to them to get more bums on seats. (Scantily-clad ones, preferably, that are ready to flaunt themselves in front of a video of dissipation.) It's not just that there is no acting or talent on display. It's not just that the characters are shallow and say stupid things like "I'm just your friend, not a main character in this stupid movie" (OK I made some of that up). It's not just that the plot is horribly contrived: "Oh, I happen to know thousands of millionaires desperate to throw their money at your stupid cause." It's that this movie is crap, but just refuses to admit it. If it did, we could have had a masterpiece on our hands, like Crossroads or Glitter. But alas.
... more
I heard of the film from the leading actress, but I didn't really know anything about the plot or premise. Basically 22-year-old, sexy, tough-minded, half-black, half-Latina Honey Daniels (Jessica Alba) is a hip-hop dancer and New York East Harlem youth centre dance teacher (to keep them off the streets and out of trouble). She dreams of becoming a professional dance choreographer for music videos, and one day she gets the opportunity when dance video director Michael Ellis (Big's David Moscow) casts her in his latest video, and many there after. Soon Honey wants to change from dancer to choreographer, but success comes at a price when Michael is trying to make sexual advances on her, and she leaves. She has plans to buy an empty building to become a new dance school/centre, and even though Michael is back in her good books, and offers to help pay for it, she refuses and says she can raise the money herself with a special fund raising dance evening. Also starring I Still Know What You Did Last Summer's Mekhi Phifer as Chaz, Joy Bryant as Gina, Lil' Romeo as Benny, Lonette McKee as Mrs. Daniels, Zachary Isaiah Williams as Raymond, Laurie Ann Gibson as Katrina, Judi Embden as Mrs. Strom, Anthony Sherwood as Mr. Daniels and hip-hop star Missy 'Misdemeanor' Elliott. Alba is fit and likable, and the dance routines are well done, but the story isn't completely gripping or interesting, with corny dialogue and stereotypical characters, but worth a look. Okay!
... more
I don't understand all the hate for Jessica Alba, and the hate for this film. Mostly, any film with her in it besides Sin City get a bad rep and she has won and been nominated for quite a few Razzies over the years, including the performance for this film. I, personally, find that overly inane and uncalled for. Anyway, on to the movie itself. Honey is a film that you just can't take seriously. It contains lots of bad dialogue, not that great of choreography in certain parts, per se, and quite a bit of the characters just fill up the time. Besides all that, I find myself having such a good heart-felt time with it, every time I watch it.Honey is a feel good pleasure driver. It's about showing that dreams can come true for all sorts of people, and there are so many scenes that put a smile on my face because of just how true to having fun it is. Unlike others, that I stated earlier, I thought Jessica Alba surpassed in her performance as Honey. She's sweet, she's sexy and she is the only truly likable character, but there is enough presence there for you to love her entirely, and I do. She hits dance moves that aren't that difficult to where they look like she has practice them for weeks. She's selfless, and Jessica Alba has more of a way of acting with her face and body rather than she does her voice and line delivery; that of course works perfectly for this movie.I don't honestly find many faults with this movie, aside from the dialogue and how all the characters are just kind of there. I find the story very warming and endearing, and the upsides of this movie outweigh the bad for me honestly, by far. Like I said, it's a blast from beginning to end. Great songs, nice cameos; if Missy Elliott's 10 minutes of the screen don't put a smile on your face I don't know what will, and I root for Honey, all the way through. I want this woman to succeed, I want her goals and dreams to be accomplished, and if Jessica Alba can do that for her character and for me, this film has acquired it's main goal, of entertaining with a likable lead. To each their own, I love Honey.
... more
I watched this movie for the dancing, for the music, for the cameos and because I think Jessica Alba is gorgeous. So I quite enjoyed it! But if you're watching this movie and expecting a proper storyline, believable characters and any sort of surprises in the plot... you'll be very disappointed! Its a very predictable movie, and most of the characters are very two dimensional and there are some very cringe-worthy lines ("Your flava's hot!").BUT... its still good fun, and the dancing is fantastic. A good movie just to drift along to, and if you're into hip hop and rnb (like I am), you'll enjoy the music and cameos as much as I did. Watch it for the dancing, not for the plot, and you'll be happy!
... more