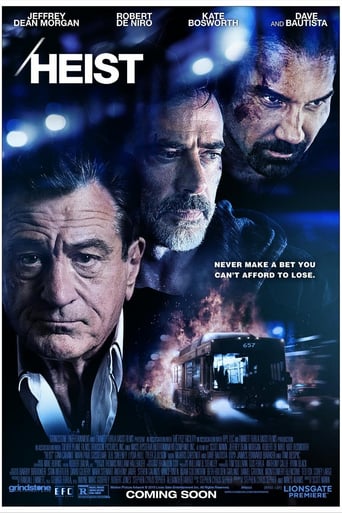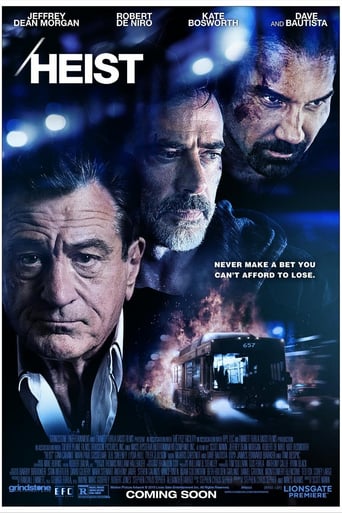 Heist
November. 13,2015 R
AD: This title is currently not available on Prime Video
A father is without the means to pay for his daughter's medical treatment. As a last resort, he partners with a greedy co-worker to rob a casino. When things go awry they're forced to hijack a city bus.
Reviews
Fun premise, good actors, bad writing. This film seemed to have potential at the beginning but it quickly devolves into a trite action film. Ultimately it's very boring.
... more
A lot of perfectly good film show their cards early, establish a unique premise and let the audience explore a topic at a leisurely pace, without much in terms of surprise. this film is not one of those films.
... more
The film never slows down or bores, plunging from one harrowing sequence to the next.
... more
I don't know if they used DSLRs or something similar to record, but the quality of the lenses they used is horrible. Blurry images everywhere. People record better quality YouTube videos of product reviews these days, and this is a film. The acting is not very good either, looks pretty fake unfortunately.
... more
I've read this was direct to DVD. It deserves it. A really great cast is wasted. There's a moving bus and the people getting thrown out of it are obviously dummies. (Insert director/writer joke here) If a director doesn't have grasp of technical issues, like what's a take and what isn't, things can go south very quickly. There's also totally ridiculous turns of events here, like a whole gang of police being fooled by the clever use of a hoodie and people deciding to kill someone who works for them instead of just telling them to knock it off. The movie also telegraphs it's big twist. I knew right away what was going to happen, although by the time the movie got to it, I had already forgotten about it and sort of said 'Oh, yeah, that's it'. It's just really bad and the only reason I gave it a 3 is out of pity for the cast. I don't know who Scott Mann is but somebody should think long and hard about giving him the keys again.
... more
Yes, it was a tired plot that has been done before. There was something about this movie that I really liked. The acting wasn't great but was far from bad. The characters were stereotypical, but I couldn't help rooting for the bad guys. (The cops weren't exactly law-abiding.) If you're expecting an intelligent well-crafted thriller, this movie isn't for you. If you are looking for a fun way to burn an evening, go on and see this film.I wonder why Robert DeNiro didn't produce this film himself and get it a theatrical release. I think his name would have at least generated some interest and put people in the seats
... more
In the intro two guys are being enhanced-interrogated by some guy. He wants to know who stole the $10k. Then the boss arrives and gives one of those villain speeches about his rules and why he can't have people steal money from him. The two don't end up well.Some guys in clown masks are running. They stop and hijack a bus.Now we are taken a week earlier. We meet a long-time casino employee named Vaughn. He's got a daughter with cancer who needs surgery but he has no money and the hospital is about to kick her out. He's got a few days to come up with the money. He tries to talk to Pope, the casino boss from the intro. But Pope recites the rules that the business is not a charity. Vaughn insists but gets himself beaten up by Pope's sidekick. Cox, a recent casino employee is watching all this attentively. And one night approaches Vaughn with a plan to steal money from the casino. Of course Vaughn isn't interested at first but changes his mind once he's out of options.Cox's plan involves two other guys. He has realized that once a week a guy shows up in the casino and purposely loses a ton of money every time. A couple of days later another guy shows up every week who always wins at the roulette. Clearly the casino is laundering money, which means if they steal it, Pope isn't going to go to the police. Cox's initial plan is no good so Vaughn suggests they go in a specific time a guard goes on coffee break, kill the lights for some reason, and walk into the vault for which he has the codes and then just walk out. Cox insists on bringing weapons, Vaughn protests in vain.The day of the heist the gang makes it into the vault and grab the money but on their way out the guard is back so they shoot him. The lights going out alerts the bad guys of course so they are watching out. And when they see our three guys a shootout ensues. That causes the fourth guy waiting outside in the car to leave in a hurry.So now we're back at the beginning the with the guys running on the street and hijacking the bus. For some reason one of them shoots his pistol in the air. That catches the attention of a cop parked nearby. Now the chase is on.On the guys was shot and needs assistance. Vaughn starts talking to the cop and since he sounds reasonable, she believes him and helps him out. In turns out Cox is pretty out of control so Vaughn is indeed the reasonable one looking out for the bus passengers, who include a pregnant woman, a vet student, an Asian kid, and a guy in a beaver suit. There are some others as well but we don't learn anything about them.Meanwhile Pope's sidekick is researching and going after the guys on his own to get the money back no matter what. Pope warned him not to get Vaughn's family involved. We learn that Pope has cancer and wants to leave the business to his only daughter. But she wants nothing to do with the corrupt affair.In charge of the police operation is a young hotshot detective who also seems to be willing to do any unorthodox thing to stop the bus which is now heading to Texas followed by news choppers and cops. Along the way of the movie there are a couple of neat surprises.There seems to be a lot of hatred for this movie, not sure where that is coming from. Heist is a perfectly enjoyable heist/escape&chase movie. It benefits from a very strong cast: Morgan is always likable, De Niro, who frankly hasn't put much effort in his acting in a long time, actually does give it a try. Bautista, who hasn't had a lot of experience does have a lot of potential and this role is well-suited for him. Carano has always had trouble with her voice-acting but is starting to improve little by little. Perhaps the greatest surprise was Gosselaar, who hasn't had a chance nor has he tried to show some acting chops, does very well and projects some charisma. And the story worked for me overall. Sure, the final surprise which you do so coming moments before is a bit too much because it assumes some astonishing level of planning. But nevertheless, Heist is a strong good-hearted (is that what bothers people about it?) action thriller. It's not high on wild action and massive destruction as most action movies are these days. The actually heist isn't filmed so well and only takes a few moments. That would have been a perfect opportunity for a thrilling scene. It does have a good message though, that even the bad guys can occasionally do something good for others and that things aren't black or white but there's lots of gray in between.
... more