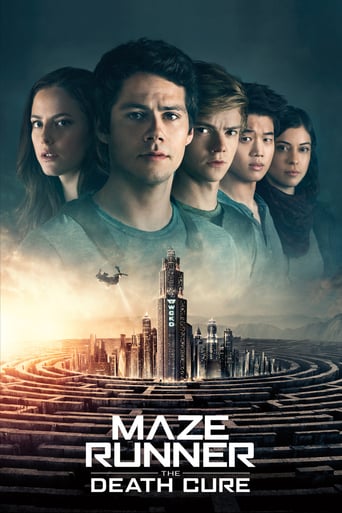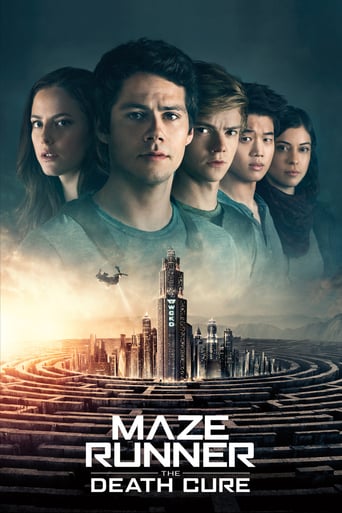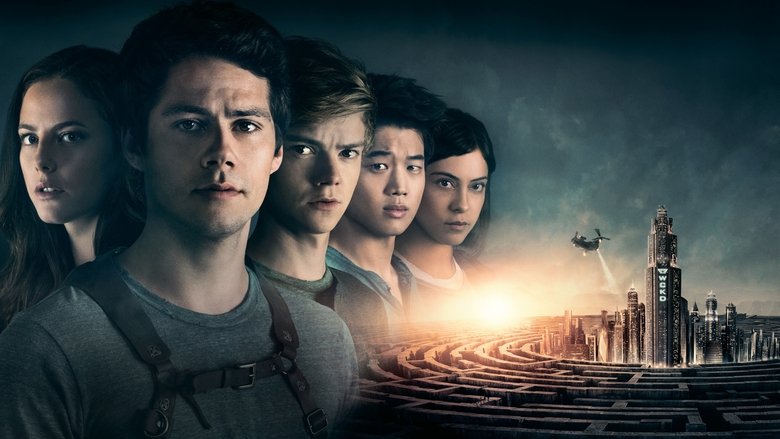 Maze Runner: The Death Cure
January. 10,2018 PG-13
AD: This title is currently not available on Prime Video
Thomas leads his group of escaped Gladers on their final and most dangerous mission yet. To save their friends, they must break into the legendary Last City, a WCKD-controlled labyrinth that may turn out to be the deadliest maze of all. Anyone who makes it out alive will get answers to the questions the Gladers have been asking since they first arrived in the maze.
Reviews
Stopped watching half-way, it's one of those cliche-filled generic movies with a dumb plot
... more
First, I will state that this movie is almost nothing like the book. However, if you can look past that (after all, which movies these days are not vastly different from their literary inspirations?) this was a really good movie.The action scenes were packed and interesting to watch, and the slower scenes did a good job of keeping the movie grounded and developing the characters. Some of the actions scenes did strain credulity, but we don't watch a movie or read a book to experience reality. We watch a movie to escape reality, and that is what this movie does. It gives you an escape from real life, while still holding enough reality to make the characters and their actions relatable.There were definitely some plot holes and questions that really should have been answered, that needed to be answered. For example, why did the immunes have to be put through such horrific "trials" in order for a cure to be found? Why did Thomas not realize that his blood could save Newt as it had done with Brenda, or that it could at least give Newt a little bit more time? But as with all movies, you can't answer every question unless you want a movie that is four hours long. It also isn't realistic to get all of the answers sometimes. How often are we left questioning things in our own lives? Sometimes things happen without us knowing the reasons why.I also feel like the actors did a really good job at portraying their characters in a realistic way. Dylan O'Brien makes Thomas so real, and you truly feel that he wants nothing more in life than to save his friends and keep them safe. Thomas Brodie-Sangster, Newt, is the reliable right-hand man who follows Thomas' lead but questions him at times to bring him back to earth. And Will Poulter gives a great performance and makes Gally feel like he is still essentially the same character from the first movie, a good guy who did bad things because he was scared for his friends, and now he wants to make amends for what he's done.Some people will hate this movie because it doesn't wrap everything up in a nice little bow, or because it does not follow the book religiously. But keeping in mind that this is a movie trilogy based on a book series intended to be read by TEENAGERS, I think that this movie delivered exactly what it promised. A movie about teenagers meant for teenagers, who don't always do things the same way that adults would, nor do they look at circumstances, reasons, or questions in the same way either. It gives a unique perspective of an imaginary situation and guesses what a group of teenagers would do if faced with those circumstances, and I think that they did a pretty good job of delivering an answer.Overall, this was a really good movie when you look at it as being there purely for entertainment. And isn't that all that a movie is meant to be anyway?
... more
The Maze Runner series was one of the best book series I've read in the last few years. I obviously get excited when something I've read hits the big screen, even though I know the film usually won't be as good as the book was. I have found that when film makers try to stick to the original story, as they did in The Hunger Games, the films are terrific. When they just take pieces and basically write their own story, it's usually an epic failure, i.e. Allegiant. In the first installment of Maze Runner, the film diverged and was disappointing, but the second film followed the book to a tee, and was terrific, what would happen in the third? Right off the bat, as I feared, the story is completely different and very few elements from the book are even used in the film, however, in the rarest of rare cases, the way the film makers re-wrote the story, actually improved upon it! Dylan O'Brien returns as Thomas and this is the film where his character really broke out and came to life as the hero we see in the novels. I honestly didn't see him as Thomas until I watched this film, he was that good. As for his other half, AKA Teresa (Kaya Scodelario), she was in a completely different role than in the novel, but likewise gave a much stronger performance than she did in the other two films. The final standout was Thomas Sangster, who I've spoke about before. He is fantastic in everything he does, but he doesn't do a whole lot! I really would like to see him do more and break out, it's a mystery to me why he doesn't. As a whole, The Death Cure was not the best in the book series, but it was the best in the film series. Many critics complained that it was too long, but I say take a look at what they did with the last book of the Divergent series. Alligiant was split into two and how well did that turn out? The only knock on this film is that one of my favorite actors, Jacob Lofland, didn't have more screen time as Aries, but aside from that this was a perfect conclusion to the film series, and a better ending than the one that was originally written for this franchise.
... more
Everything wrong with modern action filmmaking is on display in the 2 1/2 hours of wasted time, money and talent. Really what were they thinking? Another disjointed special effects reels passed off as a movie with no coherent story or meaning. Could say more but why bother. Can't believe I saw it through to the end. Complete waste of all involved.
... more