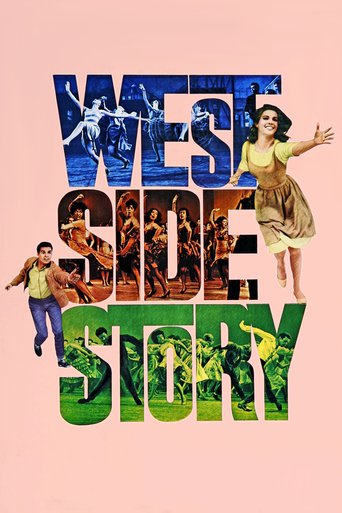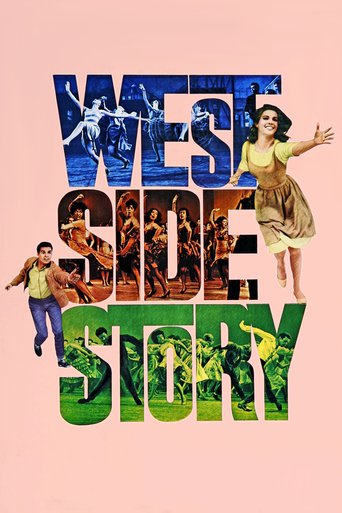 West Side Story
October. 18,1961 NR
AD: This title is currently not available on Prime Video
In the slums of the upper West Side of Manhattan, New York, a gang of Polish-American teenagers called the Jets compete with a rival gang of recently immigrated Puerto Ricans, the Sharks, to "own" the neighborhood streets. Tensions are high between the gangs but two kids, one from each rival gang, fall in love leading to tragedy.
Reviews
West Side StoryAs much as simple and familiar path the tale walks on, there is just too much of passion and enthusiasm towards the project and the work that went behind the camera, which makes it almost impossible to not be affected or mesmerized by it. The technical aspects like costume design, sound department and choreography is rich in details and makes its immensely entertaining at the largest scale possible. The first half of the feature is simply and utterly beautiful and pleasing to encounter where everything is mushy-gushy and mellow but as soon as the second half kicks in, the whole plot turns into this hegemony of "humane" nature conflicts and ironically more poetic than the first half. The execution by the director is decent but in here the editing plays a major role and sweeps away the charm as it is perfectly done. The performance is decent by the lead characters but all the limelight is stolen by the supporting cast especially Rita Moreno. The only minor conflict in it is the amount of time it takes to make the definite point, which can be challenging at some times. West Side Story is a musical act co-ordinated as a mirror; which is the ideology of the society in here that we all reside in.
... more
West Side Story is the most overrated movie in history. It's cheesy, unromantic and messy. There are several stories and only one is interesting. The characters are poorly developed and rather annoying. Yes, this movie is well directed and grand, but that's it. The movie is long, boring and uninteresting. I was begging for the movie to end.
... more
I really like the Shawshank Redemption. It was a very good movie. However it is not in the same universe as West Side Story (and many other movies prior to 1961). West Side Story is certainly one of the best musicals of all time, maybe the best. As such it is on a higher plane than most movies ever made. The music is from Leonard Bernstein, maybe the best American composer ever. It was ground-breaking film.Also it was the first major film that dealt with cultural issues that we are still dealing with today. So West Side Story was an amazing, enduring movie with wonderful music. I don't think you can ask for better than that.
... more
As far as Shakespeare adaptations go, West Side Story is considered by many to be among the strongest, singularly unique, eye-poppingly flamboyant; in short, best adaptations committed to film. That is a list that includes Laurence Olivier's Hamlet (1948) and the "Taming of the Shrew's" variation, 10 Things I Hate About You (1999). Retooling arguably one of the most overrated plays in the English language, West Side Story opens and breathes new life into the themes of "Romeo and Juliet" relocating the tragic love story from seventeenth century Verona to nineteen sixties Manhattan. I had the pleasure of watching West Side Story first as a young man then only a few days ago as an adult. While most kids grew up with "On Top of Old Smokey" being sung in their home, I was enveloped by the lyrics of Steven Sondheim and couldn't get enough of such classics as "I Feel Pretty", "Tonight" and "Gee, Officer Krupke!"For those not yet versed in the neo-expressionist masterpiece, West Side Story is the tale of two lovers; Maria (Wood) and Tony (Beymer) who simply cannot be together. Maria is the sister of Bernardo (Chakiris) the leader of a scrappy Puerto Rican gang in the heart of New York City. Meanwhile Tony is an enforcer and founding member of The Jets, a crew of native whites, descendant from Polish immigrants. Needless to say The Jets and The Sharks don't get along and plan a rumble over the turf they call home. Trying and failing to keep the piece are Detective Schrank (Oakland) and Officer Krupke (Bramley) who turn their noses at the youthful gangs and their aggressive street ballet.The film begins with aerial shots of New York City as ambient noise melts into the menacing finger snaps of gang members. The story struts slowly and confidently, draping the audience in the brightly colored world of Maria and Tony with an opening ballet so terse and tight it can't help but startle. The depth of field within the frame, along with the flashes of harsh lights, shadowed trestles and euphonious melody adds to the films attitude and fury. It's an aggressive musical with violent themes all centered around a love story that's sincere to a fault.Natalie Wood does an outstanding job channeling the frustrations and ecstasy of a young ingenue finding love for the first time. Richard Beymer is slightly miscast as the gallant beau who steals her heart yet his cornball bravado can be forgiven when matched by Russ Tamblyn's Jet caretaker manager Riff. The real heart of the show however is Rita Moreno as Anita, the sassy female guardian whose equal parts Frenchie from Grease (1978) and Mae West only 100% Puerto Rican (unlike Wood). Moreno can not only act but she can sing like a songbird and dance like she's treading on water. She ended up winning Best Supporting Actress at the Academy Awards for her portrayal and in the years since she gained distinction as an EGOT (someone whose won an Emmy, Grammy, Oscar and Tony).The dance numbers are a compendium of elastic, punchy fun with men and women flying through the air in graceful synergy. What penetrates through all the showy glitz however is an excess of feeling in all the numbers. Whether it be the sweaty paranoia of "Cool" or the sly, bittersweet social awareness of "America", the characters large and small all find little moments to exhibit pure personality. Granted some of the song and dance numbers may overstay their welcome, yet beyond the restless movement and admittedly dated lingo, there's a state of mind so raw, so real that it overpowers any of the film's minor missteps.An of course there is the social subtext which best represents itself in songs like "America" and "Gee, Officer Krupke!". Certainly there is a racial component to West Side Story, yet if we dig even deeper we find that all characters are trying to come to terms with an internal struggle for validation and acceptance. The Sharks distract themselves from the inner conflict with racial resentment, a conflict that is made real not only by The Jets but by Schrank who has no problems seeing them as "the other." Meanwhile The Jets overwhelm their resentments with mockery, not only openly dressing down Schrank and Krupke but even ridiculing their assumed hangups in song. One of the few moments of Jets honesty comes when Doc angrily chastises them for "(making) this world lousy!" One of the hoods responds "We didn't make it, Doc." It is at that moment we see that they have much more in common with The Sharks than they realize; they too feel invalidated by social systems.Taken as a whole, West Side Story is a layered, beautiful and bellicose film which dares to tell a familiar story with new story elements, exciting visuals and an infinity of blunt antagonism. Those who have yet to see this film should watch it on the largest screen possible to take full advantage of its epic scale and dense mis en scene. Those who find the inspiration for West Side Story to be too adroit, be aware the romance is laid on just as thick. Yet just because it can occasionally flirt with corniness doesn't mean it's no less a masterpiece.
... more