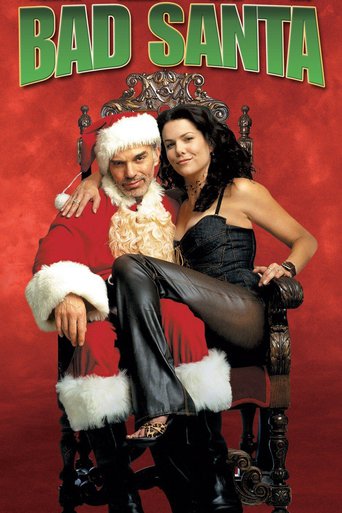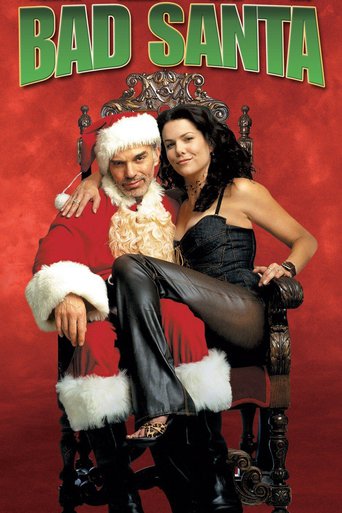 Bad Santa
November. 26,2003 R
AD: This title is currently not available on Prime Video
A miserable conman and his partner pose as Santa and his Little Helper to rob department stores on Christmas Eve. But they run into problems when the conman befriends a troubled kid, and the security boss discovers the plot.
Reviews
BEWARE OF BOGUS REVIEWS. SOME REVIEWERS HAVE ONLY ONE REVIEW TO THEIR NAME. NOW WHEN ITS A POSITIVE REVIEW THAT TELLS ME THEY WERE INVOLVED WITH THE FILM. IF ITS A NEGATIVE REVIEW THEN THEY MIGHT HAVE A GRUDGE AGAINST THE PRODUCTION. NOW I HAVE REVIEWED OVER 200 HOLIDAY THEME MOVIES. I HAVE NO AGENDA. I AM FARE.The story of this film is Willie T. Soke and his assistant Marcus Skidmore are professional thieves. Every year, Willie disguises himself as a department store Santa Claus and Marcus disguises himself as an elf in order for both of them to rob the store at night, using Marcus' wife Lois as their getaway driver and accomplice. Marcus takes his duty as an elf seriously, but Willie is a sex-addicted alcoholic, and is gradually unable to perform his Santa duties appropriately with children, plus likewise a diminish in his safe-cracking performance, much to Marcus' dismay. When they are hired at the Saguaro Square Mall in Phoenix the following year, the vulgar remarks made by Willie shock the prudish mall manager Bob Chipeska, who brings them to the attention of security chief Gin Slagel.Now this film has had 4 different cuts. 1) The Theatrical Cut 2) Unrated Extended Edition (Aka Bader Santa) 3) The Director's Cut 4) The Television CutNow my preferred version of this film is the "Unrated Bader Santa" edition. This film is funny! It is mean spirited at times but it is not trying at all to be a "Politically Correct Hallmark Movie".Billy Bob Thornton is very good in the role. However the late John Ritter and Bernie Mac are gold here! Lauren Tom is unrecognizable here but she is funny! There is several upsetting images in this film but if you have a funny bone and you want to laugh then watch. Watch this Anytime of the year. It will make you laugh.
... more
I have just struggled watching to the very end, Bad Santa. And then I turned to the reviews, and was stunned by those who liked it, they thought it was funny, they thought it was the best Christmas movie they had ever seen. This film is foul mouth twaddle.I know without a doubt that this film is the worst I have ever seen, I'm not going to give any credence to the actors.There is absolutely foul language throughout, all intelligent adults should avoid this movie at all costs.Bad Santa. Bad movie. End of....Yuk" yuk" yuk"
... more
Great comedy and if you watch The Dricetor's Cut it works as character study. This movie is brave and bold. It's unlike any other Christmas movie out there. It's not a sweet story of the spirit of Christmas. But a dark twisted comedy about a man who is broken and the despicable things he does. Hollywood rarely makes movies like this. Of course when you have a movie that is so different the studio will be concerned about how the film will do. In Bad Santa's case the producers went back and filmed additional scenes to make the movie more mainstream. As for which cut you should see If you want a good comedy See The theatrical cut.If you want a complex character study see the director's cut. In the lead role, we have Billy Bob Thornton, who does an excellent job, he brings the right level of patheticness to the character. As his sidekick, we have Tony Cox (Spaceballs, "Star Wars: Episode VI - Return of the Jedi, Beetlejuice) He has good timing and the acting is solid . The kid is played by Brett Kelly who does a great job for a child actor. Marcus(the sidekick)'s wife is played by Futurama 's Lauren Tom, and she does a good job. Lauren Graham plays the love interest and she is good. But she has a pretty small role. Comedian Bernie Mac and veteran actor John Ritter also have supporting roles. This is in fact John Ritter's last live action role Also, keep an eye out for a famous actress of old age and Lois Griffin's voice Alex Borstein. But the real star here is the script written by Glenn Ficarra and John Requa and rewritten by the movie's director Terry Zwigoff and the Coen Brothers. It's smart and does not talk down to the audience. And it is also fresh.It is not something that has never been done before. More something that is not done very often. It is not only a raunchy comedy. It is a movie that have something to say The script has meaning. The film has meat. In the Bad Santa makes for unique holiday viewing. Well worth watching at Christmas.
... more
I saw this a long time ago, and it still sticks with me. It's very unlikely that you will want to sit down with the kids and watch this during the holiday season, or any other season for that matter, as it will certainly produce many awkward moments. It is one of the funniest, crudest, and most inappropriate movies I have ever seen. There is so much politically incorrect and just plain wrong behavior in this movie that it's hard to stop laughing. This movie is definitely not for prudes or anyone who is the least bit uptight or anyone heavily invested in upholding society's mores (like maybe some of your aunts), but, for everyone else, this film is so twisted, it's brilliant.
... more