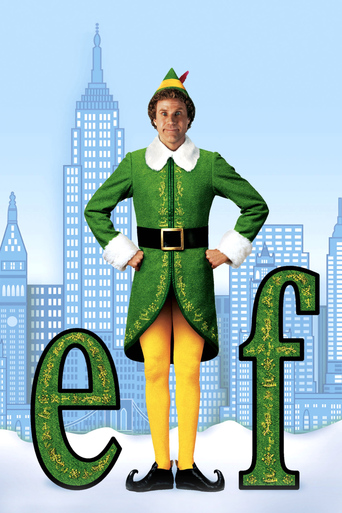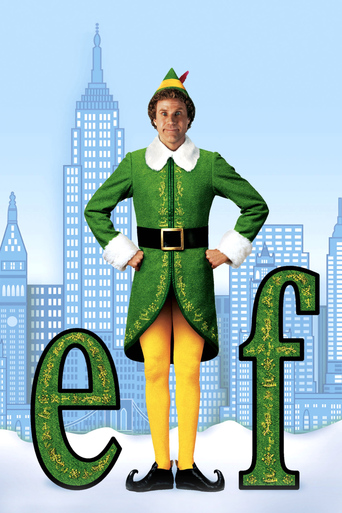 Elf
October. 09,2003 PG
AD: This title is currently not available on Prime Video
When young Buddy falls into Santa's gift sack on Christmas Eve, he's transported back to the North Pole and raised as a toy-making elf by Santa's helpers. But as he grows into adulthood, he can't shake the nagging feeling that he doesn't belong. Buddy vows to visit Manhattan and find his real dad, a workaholic publisher.
Reviews
the fact that Will Farrell's character is told at the North Pole that when he goes to civilization, if he sees gum on the ground or anywhere, don't eat it because it's not free candy; it's dirty. And then everybody cracks up, going "Eeewww!" when he picks all the gum wads off the subway railing and eats them. Wasn't he just told minutes ago to not do that?
... more
Like most people around the holidays, I'm usually up for a watching (or re-watching) of the great holiday classics ("Wonderful Life", "Home Alone", etc.). For whatever reason, however, it took me until 2016 to actually sit down and watch "Elf" all the way through. While maybe not jumping up to the top of my "all-time Christmas list", I did find Elf to be an enjoyable romp.For a basic plot summary, this movie tells the story of Buddy (Ferrell), a human boy raised in the North Pole due to a mix-up with Santa Claus (Ed Asner). For most of his life, Buddy believes he is an actual elf, until realizing his shortcomings in that community. As such, he decides to strike out for the "human world" in order to find his real father (James Caan). Along the way, Buddy (as a result of his endearing cheerfulness) brings a bit of Christmas spirit to all those around him that are in dire need of it, including a young retail worker named Jovie (Zooey Deschanel).To me, "Elf" is primarily a success because of the iconic character that Ferrell creates. The script/plot itself is about as irrelevant and corny as they come, but Ferrell's quirky energy steals every single scene. Quotes like "You sit on a throne of lies", "Bye buddy, hope you find your Dad!", and "Buddy the Elf, what's your favorite color?" will forever be burned into my memory! I don't think there is an actor out there who could have played Buddy as perfectly as Ferrell.Simply put, I'm glad I finally sat down and watched "Elf" from beginning to end. I don't know if it will get watched religiously every Christmas in my home (time will tell on that one...but maybe it will grow on me even more!), but I can tell you that I will be quoting it going forward!
... more
At first glance, Elf would appear to be one of countless holiday- season cash-ins with daft costumes and even sillier special effects, featuring a well-known actor performing pantomime on a bigger budget and grabbing an easy pay-day in the process. That is stars Will Ferrell, one of cinema's most naturally hilarious funnymen who seems to be caught up in an endless loop of mediocrity - Blades of Glory and Stranger than Fiction excluded - as the titular human-turned- elf, bodes even worse. Throw in some little people dressed in elf costumes and a romance involving surely the only woman to accept a date with a man who claims to be from the North Pole, and it would seem like a movie tailor-made for a critical beat-down.Only Elf is genuinely charming, and even more alarmingly, incredibly funny at times. Using Ferrell's man-child comedy chops to the fullest extent, this may actually be the best work Ferrell has ever done. He plays Buddy, an orphan accidentally whisked off to Santa's homeland as a baby. Taken in by the sympathetic Papa Elf (the wonderful Bob Newhart), it doesn't take long until Buddy is towering over his adoptive father and his co-workers. Learning of his biological pop Walter (played by James Caan) and that he is in fact a human, the 6-foot elf journeys to New York City to be with his real family, only for his miserable publisher dad to shun him. Buddy learns that his world no longer buys into tales of flying reindeers and a jolly fat man who knows if we've been bad, disbelieving in the 'magic' of Christmas and draining the power from Santa's sleigh in the process.Directed by Jon Favreau and written by David Berenbaum, Elf is pretty standard stuff story-wise, and is hampered by a predictable sub-plot involving Walter's struggling publishing company and his dire need to lighten up. Yet there are many touching moments, particularly in the scenes involving Buddy and his young half- brother, and the former's awkward courting of a pretty toy store assistant (Zooey Deschanel) initially freaked out by his maniacal claims but who eventually succumbs to his hyperactive charms. It all inevitably leads to a climax built around a special-effect laden set-piece as Santa struggles to deliver the presents with a dying sleigh, but this is expected from a movie designed to win over those looking for something easy-going and festive. The world has grown cynical, and perhaps so have I, but Elf reminded me that it is no fun being so.
... more
Buddy is a human who has been raised as one of Santa's elves. One day Buddy sets off to New York to find his birth father, Walter Hobbs. New York is a whole new experience for Buddy...Reasonably entertaining Christmas movie. Plot is mostly unoriginal, predictable and trite. However, doesn't take itself too seriously. Moves along briskly and is quite funny at times. Kids will love it, but adults might find it so-so.Will Ferrell is good in the lead role - was a perfect casting for the role. Good support from James Caan, Edward Asner, Mary Steenburgen and the gorgeous Zooey Deschanel.
... more