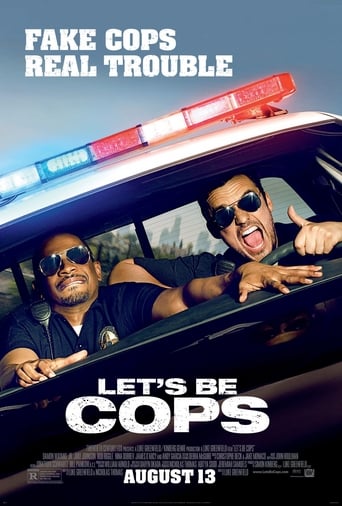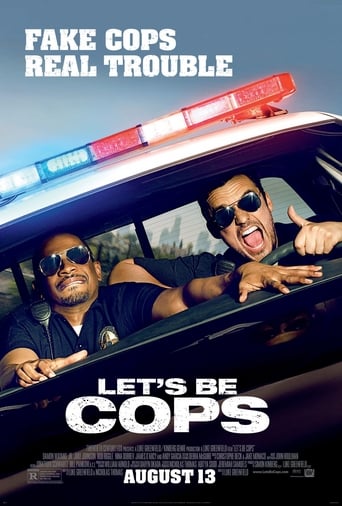 Let's Be Cops
August. 13,2014 R
AD: This title is currently not available on Prime Video
It's the ultimate buddy cop movie except for one thing: they're not cops. When two struggling pals dress as police officers for a costume party, they become neighborhood sensations. But when these newly-minted "heroes" get tangled in a real life web of mobsters and dirty detectives, they must put their fake badges on the line.
Reviews
I can't believe all the ratings above 1 or 2 stars, I saw this movie not expecting anything and still found it so boring and stupid, what part is funny ???? The only part I liked was Nina Dobrev on shorts, she looks pretty hot, but outside of that this is a total waste of time, not funny at all.
... more
I am not American, but I had so good time watching the movie. It was surprisingly very-very-very entertaining and made me laugh out loud several times. Which is rare.The idea is simply extraordinary and the production is generally a success. It's fascinating as you can keep the feeling of "yeah-this-could-really-be-happening" because the comedy is just so well done. While you know it could not be happening. It's hard to explain.Definitely not waste of time but good-quality fun.
... more
Watched this last night on a lark on FXM. To say I'm pretty ignorant of most movies in the last 30 years or so would be an understatement, and I certainly never heard of this one, which was great, because I hate the dreaded PRE-CONCEIVED NOTIONS. Thus, when we figured out quickly that the two stars were actually gonna try to be cops, we knew we were in for a fun ride, and we were also 99% positive that the heroes would come out (somewhat) unscathed at the end. Main reason this got a "10" imho, is because it was a knee-slapping, laugh -out --loud comedy, and mainly, because it was unexpected. A final note - Nina Dobrev - wow, what a hottie! With my wife at my side, I had to keep the drooling to a minimum....
... more
Let's Be Cops is a fantastic movie and I have no doubt about it! let's Be Cops is a 2014 buddy cop comedy with one problem, they aren't real police officers. I was very nervous about this movie as there has been a lack in good comedies over the years but I end up loving this movie. It was a perfect comedy as it was funny at times, although it wasn't a consistently hilarious movie you'll still find yourself laughing out loud a lot. This movie was all serious as it shows the reality of the situation that the characters have got themselves into. The characters were both great and very relatable as well as generally good people although they do some stupid things. Although this movie has a low score on various movie reviewing sites I would recommend this movie to most of my friends who are up for a good laugh with quite a few serious moments. The direction was great, the cinematography is great, the ideas behind it are great, the acting is amazing and the comedy will keep you laughing. Although it is a "Hard R" film it's not overly inappropriate as it's only inappropriate for short periods at a time and has a number or morals and almost every wrong is ended upon with a right. Give this a movie a go as you will probably be presently surprised!
... more