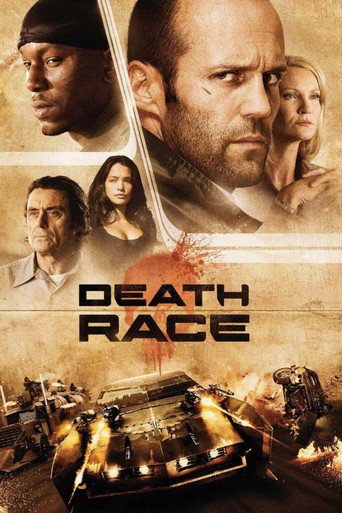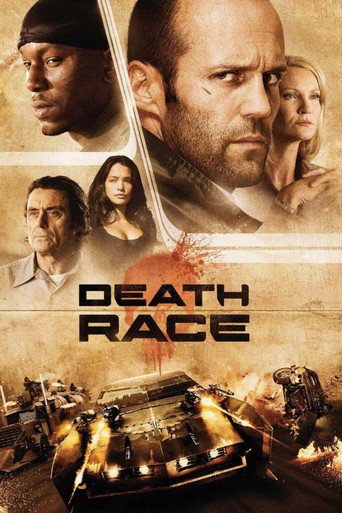 Death Race
August. 22,2008 R
AD: This title is currently not available on Prime Video
Terminal Island, New York: 2020. Overcrowding in the US penal system has reached a breaking point. Prisons have been turned over to a monolithic Weyland Corporation, which sees jails full of thugs as an opportunity for televised sport. Adrenalized inmates, a global audience hungry for violence and a spectacular, enclosed arena come together to form the 'Death Race', the biggest, most brutal event.
Reviews
'The Fast and Furious' meets 'The Running Man' in this fast-paced action vehicle directed by Paul W. S. Anderson of 'Resident Evil' fame. English actor Jason Statham who's made a name for himself in an array of action flicks steps into the role of the lead character with just enough charisma and energy to keep action junkies glued to their seats. That is if they are not demanding for anything above your average no-brainer action. As the title suggests, the main appeal to is a series of action sequences consisting of brisk car chases and of course, death and explosions. Throughout the picture, Anderson shows very little interest in plot and character development. For action fans however, this should not be too much of an issue. Anderson never attempts to try anything out of the ordinary to terms of action and narrative, but he at least succeeds on delivering a sense of excitement when the action kicks off. Set in 2012 when the unemployment in America has reached an all-time high and economic unrest has devastated our nation, the government has enacted a bill where criminals are sentenced for life in prison, but are acquired an opportunity to compete in a televised racing show known as "Death Race" run by the sadistic Hennessey (played by Joan Allen). In this show, prisoners are equipped with cars armed with fire-based weapons and must compete in a race. The competitor who wins all three races wins their freedom, while the others are doomed to return to their cells or die on the tracks. When ex-con Jensen Aimes (played by Jason Statham) is framed for the murder of his wife, he is sentenced to prison and must compete in the races, which puts him at extreme competition against Machine Gun Joe (played by Tyrese Gibson) and a path of vengeance for those who wronged him. If you can picture the 'Twisted Metal' games in the form of a movie, that sums up how this action-packed film plays out. Paul W. S. Anderson takes the wheel in generating this film to the screen, and the results are somewhat satisfying, but with some noticeable flaws pertaining to the script. The majority of the action, which takes in on the race tracks designed in a fashion of a video game, are fine and deliver a fair source of adrenaline in the form of frenetic car chases. With the most action consists of explosions, car crashes, and people killed in a bloody and occasionally gruesome manner, there is enough energy to keep the excitement muscles flexing. When it comes to building up the plot, there is plenty of involvement that could be given. The premise involving prisoners competing in a futuristic gladiator race on live television opens the door to a potentially compelling plot. But aside from a just a snippet of social commentary, there isn't a whole lot of interesting ideas added to the mix. The plot is reduced to nothing but action and a few generic attempts of character development. Jason Statham, the appealing action star he is, puts on a good show as does Tyrese Gibson as his rival. Joan Allen shines in her role as the villainous women with a dubious demeanor. Ian McShane makes for a pleasant appearance in his role. Natalie Rodriguez as the sexy shot puts on a good performance, but serves a little more than eye-candy. None of the characters are polished with much depth, but at least the cast can make good use of the little they have to work with.Death Race is a flawed, but somewhat entertaining action flick equipped with brisk pacing and slick action set pieces to feed action-hungry moviegoers. This movie is nothing inventive or particularly inspiring in the genre, but for what Paul W. S. Anderson delivers, it at least meets the criteria of an average action-packed ride.
... more
In the bonus feature "Start Your Engines – Making a Death Race," Anderson declares that he meant for this movie to be a darker, more serious, believable version of Death Race 2000. I've never seen the original, so he may have succeeded, but I found this film to be hokey in a few parts, including the ending. All of that being said, it is one of my favorite hokey car films. There is actually a compelling plot behind the race, plenty of great action, and a solid cast, including newcomer beauty Natalie Martinez, whom I'd like to see more of. While I wouldn't go so far as to say that you need to see this flick, I will say that you probably wouldn't mind watching it more than once, either.For more reviews and a kickass podcast, check out: www.livemancave.com
... more
One of the favourite actors of the genre action, Jason Statham, here it comes again in an impossible situation.In Death Race, British actor must support a scenario arch-known, not only because we are dealing with a remake of a film from the '70s. Somewhere in the near future, the hero is put in jail (wrongly of course) in a maximum security prison, whose main difference from other such "establishment" is the mobile film: a "Death Race" with more cars with weapons of all kinds. Everything is allowed, and prize survivor is even much-needed freedom.An explosive film, full of action and suspense, twists and beautiful women, what to say, Jason Statham plays only films that you keep you eyes glued to the screen from the first second to the last sound in the film. Sensational video.
... more
Death Race is an action film. All of the story happens over a few days and nights.A few guys that are in prison want to escape from it and the warden of the prison thought of an idea. She wants to make a race with guns on the racers' cars. Whoever survives the race without getting killed gets the chance to leave prison.The background soundtracks are mostly rap, hip hop, and a few rock songs. There are a lot of special effects, such as explosions and shooting.I liked the movie. It has a lot of action, cool cars and an interesting story.The character that I liked the most is Jason Statham. In the beginning, his wife was killed by one of the racers in the prison. Then, the racer knocked Jason out and put the knife in Jason's hand. When the police arrived, they thought that Jason killed her because of the knife. When he's in the prison, he takes revenge and kills the murderer of his wife. Jason is a serous guy and fits in fast with the guys at the prison. This is why I like him.Most of the audience who will like this movie are teenagers and/or people who like action such as shooting, explosions, and a lot of special effects. the movie is for 11+ only. This is because little children will think that this all can happen in real life and they will be affected by the violence in the movie.I give the movie 9/10 stars, because the violence in the movie isn't recommended for under the age of 11. There are some scenes that are not real. For example: There is a scene where someone is jumping out of a car with an "escape chair", etc.
... more