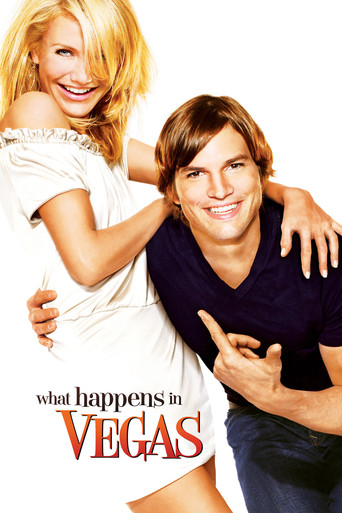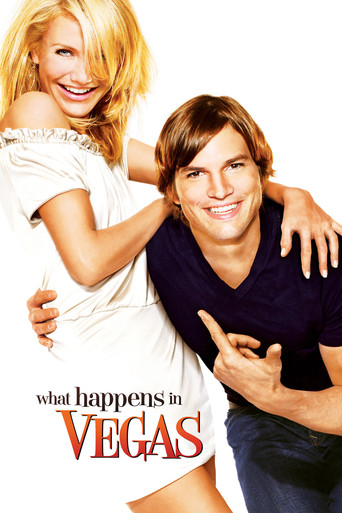 What Happens in Vegas
May. 07,2008 PG-13
During a wild vacation in Las Vegas, career woman Joy McNally and playboy Jack Fuller come to the sober realization that they have married each other after a night of drunken abandon. They are then compelled, for legal reasons, to live life as a couple for a limited period of time. At stake is a large amount of money.
Reviews
I usually like most movies, but have to say this one was really a dog. The acting was very high school,, although the supporting characters weren't bad. The whole premise of the movie is a bad joke - and it's all been done before. Really - getting drunk and marrying a stranger in Vegas? Been done before. Not funny the millionth time. Then there was all the little jokes, like her showing him how to keep the toilet seat in the down position.. Again, done before a million times on bad television shows. And the entire premise of the judge ordering them to live together as man and wife.?? yes,, done before. It's the same premise as the Jerry Seinfeld show when Jerry got his own TV show based on the premise that he is in a car accident and the judge sentences the guy to be his butler. Every joke in this movie is old. Wow.
... more
What Happens in Vegas (2008): Dir: Tom Vaughn / Cast: Ashton Kutcher, Cameron Diaz, Rob Corddry, Lake Bell, Dennis Miller: The city of lights becomes the happening for Ashton Kutcher and Cameron Diaz who meet in Vegas and end up married after a drunken evening. Divorce court follows but the issue regards the jackpot he scored on her coin. Starts out fine but becomes predictable. The ending works due to a selfless act. Director Tom Vaughn is backed with great Vegas locations fuelled with the energy reputed with the city. Kutcher plays off the irresponsible nature of someone not easily caring but will learn that selfishness isn't an asset to relationships. Diaz was dumped by her fiancé yet displays total selflessness that render the film worth the trip. Both will bicker and one-up each other in the meantime. Rob Corddry as Kutcher's best friend and lawyer plays above conventions and steals scenes with his crass beliefs and hilarious advice. Lake Bell as Diaz's best friend is unfortunately flat and never highlighted as Corddry successfully portrays himself. Dennis Miller is also wasted as a judge that lands down the plot problem. Fans of romantic comedies will no doubt indulge in this venture to Vegas thanks to the two leads. It presents marriage is a team ordeal where love and sacrifice go beyond anything that happens in Vegas. Score: 8 ½ / 10
... more
What Happens in Vegas is designed as a crowd pleaser. Fortunately, it's done well enough that it can stand the passage of time. It was an instant hit, and I must say, it's easy to watch over and over again.Cameron Diaz who plays a modern power woman and Ashton Kutcher who plays a lazy party guy are funny as hell, and perfect for each other. Their sidekicks carry the brunt of the crazy behaviors and make the main characters look more normal.The scenario is a nice roller coaster with few pause that only serve as jumping board for more wacky entertainment. The romance itself and the sweetening of the story is even well done. The souring was also handled pretty well, they didn't go off the deep end, and did it simply. The soundtrack is upbeat and current, and the editing hide some nice surprises.The only thing I could reproach is the plainness of the dialogs. Nothing spectacular there, but no clumsy attempts either and it's funny, so it's difficult to really complain.Weirdly enough, no sex, which is good, it would have just ruined the vibe. It's a good chick flick, as well as a guy flick. There's stuff of everyone in their.For good entertainment, see it.
... more
I had to eventually turn this movie off, it was that bad. Kutcher and Diaz meet cute in Vegas, get drunk and get married -- and end up winning several million dollars. There's a fight over the money, and a judge orders the bickering couple, who are seeking an annulment, to stay together and work things out. Romance follows. Diaz is strident, Kutcher is wasted. I will say Diaz's gal pal (Bell) is hot, and I wouldn't mind spending time with her in Vegas. Unfortunately, she isn't the star. I will add I have been to Vegas 30 or 40 times over the years, always on business, and I was not at all impressed with the film's portrayal of that city.
... more