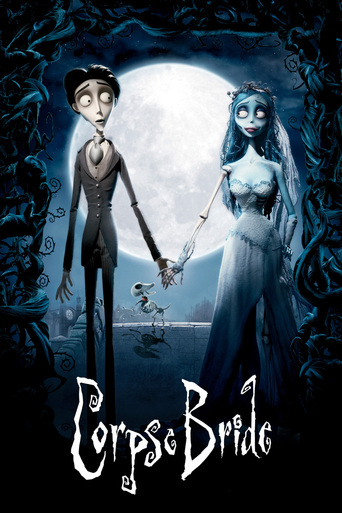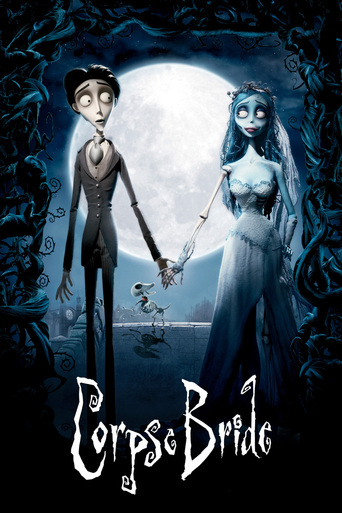 Corpse Bride
September. 12,2005 PG
AD: This title is currently not available on Prime Video
Set in a 19th-century european village, this stop-motion animation feature follows the story of Victor, a young man whisked away to the underworld and wed to a mysterious corpse bride, while his real bride Victoria waits bereft in the land of the living.
Reviews
Continuing my plan to watch every Johnny Depp movie in order, I come to The Corpse Bride.Depp reteamed with Tim Burton for a fifth time when he agreed to do the voice world alongside Helen Bonham Carter. Both characters look like the actors. It's not the dark horror piece you imagine based on the trailer. Its a sweet and charming movie about lost love. That's not to say it's not without its moments.I always see this as a companion piece to Nightmare Before Christmas, so if you like that, yiu will enjoy thisThe Corpse Bride grossex $53 million at the domestic box office to end 2005 as the 51st highest grossing movie of the year.
... more
I went into this movie with very low expectations, and I was still let down. "Corpse Bride" is a frustrating experience because it takes a lot of skilled and talented people, then wastes their talents on a lazy, uninspired production.The script feels like a first draft, where someone threw in a bunch of half-baked ideas and meant to turn them into something good later, but he just never got around to it. For example: We first meet our hero, Victor, in a room with scientific gear, studying a butterfly. His interest in science never shows up again, even though it would be so much fun to see a scientist react to all the magic in the film. Later the spirit of Victor's dead dog comes back; Victor is delighted at first, then he just ignores his dog for the rest of the film.Victor's parents are earnest, decently-interesting characters who have a huge role for the whole first half of the film... then, suddenly, they're written out of the movie in the most random and stupid manner possible, never to be mentioned again.We visit the Land of the Dead, where some spirits party all the time, but other spirits work crappy jobs sweeping the streets for no clear reason. Are these spirits just stuck in this afterlife forever? If so, why are there only like 15 people in the Land of the Dead? The very end of the film suggests that they move on to eternal rest (or reincarnation? it's vague) after they find peace, but nothing else in the film ever even hints at this idea, so it comes out of nowhere in the last few seconds.This is a problem when Emily, The Corpse Bride herself, is a major character, but we never learn what she can or can't do. She can apparently talk to animals and do some other magic. It sure would be fun to see more of her magical abilities, but this movie just can't bother to use that much imagination.But I must give special attention to the biggest "screw you" to the audience: Victoria's subplot. To sum it up: She sees that Victor is in trouble; she wants to go help him, but her parents tell her to calm down and lock her in her room. So she makes a tense and daring escape! We root for her character and want to see her succeed! But instead, the first person she asks for help just brings her back home, and she's locked in again. The entire scene was a complete waste of time.This would be disappointing enough. But THEN, her parents tell her they will marry her to a sleazy new suitor. Victoria has been totally dynamic up to this point, and now she has more reason than ever to go find Victor and set things right... but she just gives up instead. The screenwriter got so lazy that he just made her clam up & obey her parents, even though this goes against everything we've learned about her character. For a short time, Victoria is the most likable, proactive character, and then she suddenly turns into a complete wimp.Unless you have very, very low standards, stuff like the above subplot will leave you feeling cheated, betrayed, and even a little disgusted with the laziness and shoddiness of the story.My heart bled for all the hard-working animators who put countless hours of work and effort into this film, only to create an embarrassing, ridiculous waste of time because the writing-directing team was so shamefully lazy. The same goes for the voice actors: most of the puppets are so sorely limited, it would be way more fun just to watch the actors saying their lines in a recording booth. (Christopher Lee especially suffers, as he ranges from bombastic to subtle, while his puppet character is stiff & listless.) It's a horrible waste of talent.
... more
"Corpse Bride" (2005) is a movie that will have your eyes constantly popping out of your head with amazement, similar to how the Corpse Bride's (Helena Bonham Carter) eyes constantly pop out of her own head during the movie. Director Tim Burton never fails to leave his audiences in awe with the fantastical nature of his films. With the incredible Expressionistic animation and hyperbolic appearances of the characters, the audience can't help but be engaged in the movie's exciting flow of the events. This film features Johnny Depp as Victor Van Dort and Emily Watson as Victory Everglot. Knowing Johnny Depp has any connection to a movie is already a good sign. It is the perfect movie to watch if you enjoy horror, comedy, and/or romance- Yes, this movie has it all! The film presents a depiction of the world that will not only have you reevaluating your daily life, but will also have you "die" laughing at its humor. This movie is perfect for getting you into the Halloween spirit, but is honestly enjoyable anytime of the year. I would recommend, so go out and watch!
... more
The Corpse Bride (Tim Burton, 2005) is a classic Tim Burton movie. It has the expressionist over the top sets and strange character design that Burton seems to like so much. If you enjoy Tim Burton's other work, you would almost definitely enjoy this film. The Corpse Bride stars a young shy man named Victor who is to be married to a Lady Victoria Everglot, and along the way, he accidentally marries a corpse. This Corpse, named Emily, brings him into a world of the dead existing just below the living. Throughout the movie, Tim Burton really utilizes the freedom given by animation. So much so that a number of characters are just moving caricatures of what they represent. For example, the upper class, old money Lady Maudeline Everglot is more chin than face or her greedy husband Lord Finis Everglott is rounder and fatter than he is tall. All in all, this movie is highly entertaining and very enjoyable and I recommend it especially to people with small children as it is a movie the entire family will find enjoyable.
... more