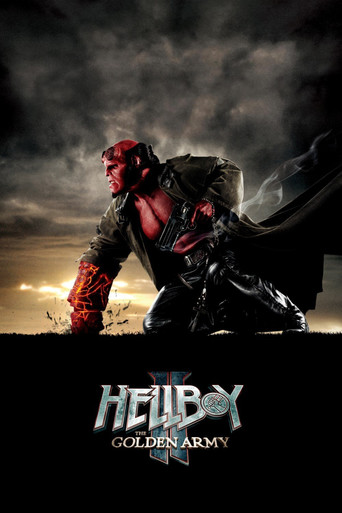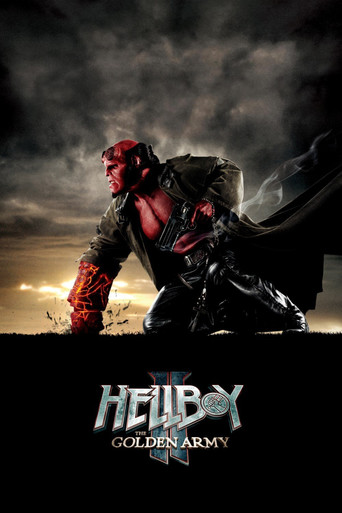 Hellboy II: The Golden Army
July. 11,2008 PG-13
In this continuation to the adventure of the demon superhero, an evil elf breaks an ancient pact between humans and creatures, as he declares war against humanity. He is on a mission to release The Golden Army, a deadly group of fighting machines that can destroy the human race. As Hell on Earth is ready to erupt, Hellboy and his crew set out to defeat the evil prince.
Reviews
I did expect more of this...Well, Hellboy 2 is still an entertaining action movie... But it misses everything, that made Hellboy 1 so special.It's not very cynical, no "very bad language" and is filled 100% political correctness.It means you could easily change the main characters into the ones from "Spiderman" or "Thor" or "Captain America" or whatever... It wouldn't make a difference.So for me, this is just another superhero movie. I mean, it is not a bad one, but just one out of a hundred. That was simply a bit disappointing.
... more
Hellboy 2 is an exercise in sheer visual imagination at the expense of depth, emotion and pacing. I mean, in what other film would the main character, a crimson devil who files down his horns to look more human, blow up the head of a nature god with a massive revolver and watch as the nature god's green blood turns everything into a natural paradise? I would hazard to say very few. That's really where the film succeeds. Each monster and set piece in this film is crafted with meticulous innovation and creativity, Del Toro putting a generous dose of creator's love into his work. However, his narrative, while also imaginative, relies too much on clichés and his characters are listless and tiresome. If Del Toro put the same love and innovation he put into crafting the visuals into shaping his characters and his narrative, Hellboy 2 would have been a fine film indeed. But as it stands, Hellboy 2: The Golden Army is limp and forgettable, buoyed by little more than few surprising twists and a stunning visual arsenal.Hellboy (Ron Perlman) is a reluctant government agent who arrived from another world. He loves cats, television, and his wife, Liz (Selma Blair), but is discontent with his sheltered and secretive existence in the basement of some government facility in the middle of nowhere. He wants, as the saying goes, "to fit in". But of course, considering the fact that he happens to be a crimson devil, complete with horns and tail, that isn't going to happen. I did like Perlman's performance. Hellboy is a beer-drinking, gun-toting badass with a surprising outlook on life. He's an irresistible character, if a tad shallow and impulsive. But the other characters are significantly less so. Both love interests in the film are extremely boring, Del Toro seeing it fit to give them the most clichéd and hackneyed lines in the book. The villain is ridiculous, and the other characters simply aren't there enough.The narrative is innovative, but lacks depth and even entertainment value, relying on strange action scenes (most of which lack fluidity) while barely ever giving us a break. I suppose that that could be taken as a pro, but I'm going to put it down as a con, simply because the running time is too short to have all that action without sufficient emotion or character development. I mean, if they could squeeze the character development and emotion into the action, I would have been happy.Hellboy 2 is basically this: Years ago, humans massacred elves, and now, one of them is deciding to bite back by reawakening the "Golden Army", which is literally a massive army of golden cyborgs hidden underground.Sadly, much of the film is forgettable, excluding some neat set pieces and a few solid action moments. But even the action scenes lack fluidity and movement, opting instead for a slow, blow-for-blow which lasts usually about five to ten minutes, making them rather plodding and unspectacular. Some of them are simply senseless, and some of them focus on Hellboy way too much.What I wanted from this film was del Toro to put the same love he did into making his characters into shaping his characters. There is tension, yes, but the tension is often laughably clichéd. The characters develop in tiresome, by-the-book ways. It becomes difficult to care for anybody excluding Hellboy.Creativity alone is enough to designate this film as a good film, as creativity is so often lacking in modern blockbusters. However, this film falls short past the realm of visual creativity, creating a story that is poorly paced and executed, characters that are for the most part tiresome, and action scenes that lack motion. All in all, Hellboy is a fine visual piece, but rather a dull film.
... more
Some references to the plot follow. In this sequel to the hit "Hellboy", director Guillermo del Toro adds a little more humor to the mix as the team has to save the world from a paranormal Prince who is trying to summon the "Golden Army" his people had created to get rid of mankind. The added humor makes it a breezy and enjoyable watch, despite not being as close to the tone of the source comic. The main players are back with Ron Perlman once again bringing the Dark Horse character to life. Hellboy is now known to humanity despite the efforts of bureau head Manning to keep his identity a secret. A new team leader, the gaseous Dr. Krausse is sent by Washington to keep an eye on Hellboy. While still having spats with Liz, he has to find a way to investigate and find the aforementioned Prince. An enjoyable "popcorn" type flick.
... more
Based on the fictional character Hellboy created by Mike Mignola and a sequel to the 2004 Hit Hellboy, 'Hellboy II: The Golden Army' is A Power-Packed Sequel, that defeats its prequel by a great measure. Its pure fist-pumping, explosive stuff! 'Hellboy II: The Golden Army' Synopsis: The mythical world starts a rebellion against humanity in order to rule the Earth, so Hellboy and his team must save the world from the rebellious creatures.'Hellboy II: The Golden Army' works big time as an entertainer. The Screenplay is brilliantly complimented by dazzling visuals, sharp direction & efficient performances. Guillermo del Toro's Screenplay & Direction, are top-notch. The narrative flows with an infectious tone, while his Direction is as stylish as it could get. Visual Effects are absolutely dazzling. Cinematography & Editing are neat. Art Design is excellent. Make-Up is superbly done. Action-Sequences are expertly choreographed.Performance-Wise: Ron Perlman as Hellboy, is tough as hell. He nails the part. Selma Blair as Liz Sherman, is super efficient. Doug Jones as Abe Sapien, is super. Seth MacFarlane voices Johann Krauss, flawlessly. Luke Goss as Prince Nuada, leaves an impression, as well.On the whole, 'Hellboy II: The Golden Army' is simply WOW. Two Thumbs Up!
... more