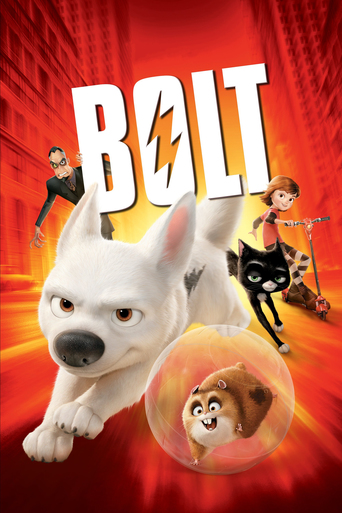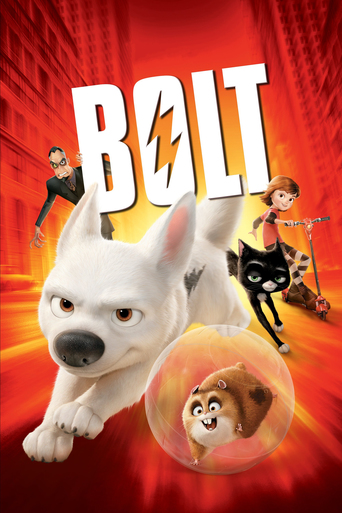 Bolt
November. 21,2008 PG
Bolt is the star of the biggest show in Hollywood. The only problem is, he thinks the whole thing is real. When the super dog is accidentally shipped to New York City and separated from Penny, his beloved co-star and owner, Bolt springs into action to find his way home. Together with hilarious new sidekick Rhino, Bolt's #1 fan, and a street-smart cat named Mittens, Bolt sets off on an amazing journey where he discovers he doesn't need super powers to be a hero.
Reviews
Bolt is a cute movie, but it lacks the story, clever humor and emotion of Pixar animated features. Much like Meet the Robinsons (another Walt Disney Animation Studios solo venture), the plot seems flat and drags on a bit. However, it does have some funny moments and children will be entertained by it. Bolt isn't a bad movie, it's just not a great movie.
... more
This delivers another heartpounding movie to resonate the title by the famous Disney. The story is great and makes a true honor to the dog in the adventure he goes through to make it fun throughout. And in many ways does the movie make it great to follow what happens as it goes through. But it doesn't have much more depth then that and sometimes gets slow at certain moments.
... more
Bolt was an ordinary dog until owner Penny's father gave him superpowers; after that he and Penny are up against the villainous Dr Calico and his henchmen... of course none of this is true; he is actually part of a popular television series although he doesn't realise that. One day, hoping to make the show more dramatic the creators make an episode with a cliff-hanger ending. Thinking Penny is really endanger Bolt sets off to help her. This doesn't go well; he ends up in a box and is shipped to New York. Once there he believes the Styrofoam in the box was the reason his 'powers' no longer work. He meets Mittens, an alley cat he believes is one of Calico's minions, and together they set off across America so that he can get back to Hollywood and save Penny. Along the way they meet Rhino the hamster, a fan of Bolt who believes Bolt is a real superhero. As the three continue their journey they encounter various obstacles before the exciting finale.When I sat down to watch this I didn't know about the story; all I really knew was that it was a CGI animation from Disney that featured a dog. This meant as I watched the opening I thought Bolt really was going to be a super-dog. Some might have been disappointed when it emerged that it was just a show within the film but I thought that was rather fun and worked perfectly to set up the rest of the film where Bolt learns that he isn't quite as super as he thought. Once in New York the story is almost entirely about Bolt and his new companions Mittens and Rhino. These characters are a lot of fun; especially Mittens, I loved how she was introduced when we see her running a protection racket against the local pigeons. The story isn't exactly deep but it produces some really good set pieces and some emotional moments. There are some mildly scary parts but nothing that should upset children; the sense of danger doesn't go on to long. As one might expect from Disney the animation looks really good and the voice cast, most notably John Travolta, Miley Cyrus and Susie Essman as Bolt, Penny and Mittens, do a really fine job; combined they make really good characters. Overall this might not be Disney's must memorable CGI animations but it is a lot of fun and can be enjoyed by animation fans of almost any age.
... more
I love this more than popcorn and I reallyy love popcorn. yasssss bolt slayyyyyyyyyy
... more