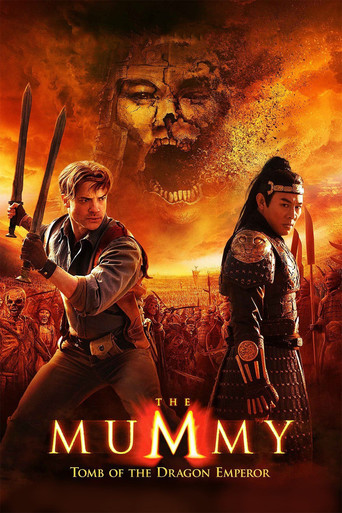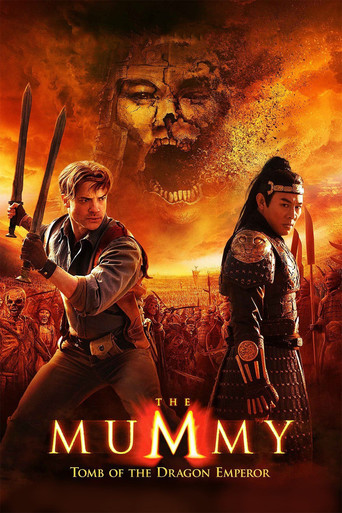 The Mummy: Tomb of the Dragon Emperor
July. 01,2008 PG-13
AD: This title is currently not available on Prime Video
The third installment in the Mummy franchise takes archaeologist Rick O'Connell to China, pitting him against an emperor from the 2,000-year-old Han dynasty who's returned from the dead to pursue a quest for world domination. This time, O'Connell enlists the help of his family -- including his wife and son -- to quash the so-called Dragon Emperor and his abuse of supernatural power.
Reviews
I have to give credit for the idea of using ancient China as the backdrop, the Egyptian mythology was quickly growing tiresome. But this is not how to do it. An utter mess is the only way to describe the execution. Our beloved archaeologists and treasure hunters have been tasked with one final mission, to deliver the "Eye of Shangri-la" to China. Alas, a faction of devoted soldiers wish to resurrect their lost emperor from the dead...and so we have a "Mummy" movie. I have too many gripes with this, so let me get the positives out of the way. Plenty of mindless action, Brendan Fraser is so damn likeable (I seriously miss him...), good father and son onscreen chemistry and Michelle Yeoh is always a plus. Those are the four points that this film earns. Now...onto the negatives! I noticed a small little detail that was missing...Rachel Weisz. Maria Bello, I'm sorry, you did your best but Weisz just cannot be replaced. Jet Li was wasted and had no charisma. The script was completely mediocre where the humour was injected into every other line, as if I was watching a classic 70s adventure film. Know your current audience Gough and Millar, because this sucked and was hugely unfunny. Rachel Weisz isn't in this. The visual effects for the most part were average, however the first use of it was horrendous. You know the scene...Jet Li melting and solidifying into a terracotta statue. Urghhh was painful to watch. Blowing up an ancient Tibetan monastery as a 'Plan B' is immoral and culturally despicable (someone give me a Nobel Peace prize!). Rachel Weisz isn't in this. Yetis? Really...YETIS!? We're going there are we? Might as well have a three headed dragon whilst we're at it...oh...never mind. You're wondering what I'm getting at right? The fantasy elements were just stupid. Didn't work, at all. That pretty much describes this film, stupid and unnecessary. I suppose it's an easy watch though...if nothing else was on.
... more
The Mummy Returns lacks what made the previous entries enjoyable.Director Stephen Sommers who reminded you nit to take the movie too seriously.Rob Cohen's direction is too serious for a movie about an ancient mummy that comes to life and wrecks havoc for a really vague purposeRachel Weisz,she was the heart of these movies and had great chemistry with Fraser that made you root for them in whatever silly situation they were in. Her Presence is really noticeable. There's a scene where her replacement tries to seduce Fraser's character and he falls asleep.You get the feeling she is trying too hardThe thing that makes this sequel is because its trying too hard to be so many things.It tries too borrow the father son dynamic from Indiana Jones 3 without understanding what made work.It rehashes the plot if the previous entries without improving on it and lacking their charm but HEY its better than the misfire that was (MUMMY 2017)
... more
I don't just like movies, I love them. Which is why I do reviews here and try to be "useful." Yet no matter how many movies I watch, I am always aware that the people who make these movies -- even the good ones -- are not themselves heroes or geniuses, they are merely regular folk trying to make a living. In other words -- the huge secret of the movie industry -- it is a business. And it needs to make a profit. And it needs to continually churn out product to feed the pipeline.Never is this point more obvious than in films like this, films that reveal, if only briefly, the underbelly of Hollywood run by accountants and number crunchers.This is a film where, after reading the script, Rachel Weisz, one of the main attractions of the earlier entries, suddenly developed a headache and turned down a few million dollars in order (I think) to avoid the embarrassment.But Hollywood does not embarrass easily.How did this film get made? Easy. Someone said "The earlier films in the franchise made us XX million and were seen by XXX people. The boys in the backroom tell me that if we do one more sequel, even if it is not very good, even we save money by having one of the teenage interns do the script between exams, then 32.8% of the audience who saw the last one is guaranteed to show up. And that puts us into breakeven. Once it goes to cable and digital, we will be into profit." And those -- trust me -- are the people you, kind viewer, trust to bring you good entertainment.
... more
This movie made slim to none sense, it was slow paced and the plot was all over the place. This Movie is stupid. Good effects though. You don't have to pay attention after that. I'm just writing random stuff now.. So. Potato, Potato, Potato Shark Cow. What am I writing -.- This is dumb. Yikes. OK. 1287 87878 9789. 7475 643786 9827019 8290831 -0984-9 385-740 1287198 7495871 9487549 8579834 65917346 598 1465894 5691485 61948 56194 -85 6-§9. 871 4865 =4608476 4=059 37509= 741 3098 7340 9856 7473 9501 9485 7109 2752 1097405 874095 7190 8409 374 039 2740 297 403. 8574 8965 8961 8345 -580 4375 12-0 8571 4-54 8037 5103 9745 2948 6723 8968 4935 71- 09238 571 0-9 34750 1972 435 0941 27.
... more