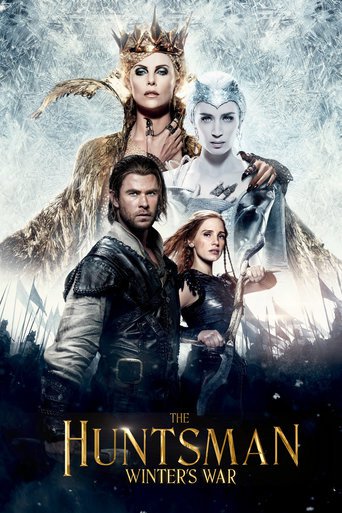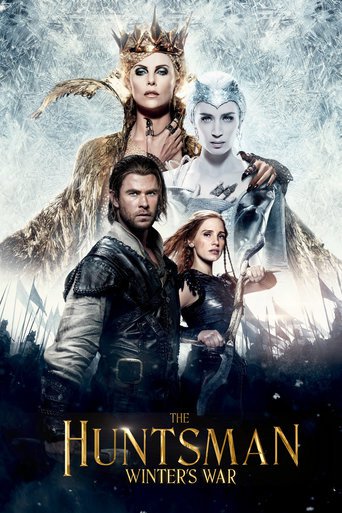 The Huntsman: Winter's War
April. 06,2016 PG-13
AD: This title is currently not available on Prime Video
As two evil sisters prepare to conquer the land, two renegades - Eric the Huntsman - who aided Snow White in defeating Ravenna in Snowwhite and the Huntsman, and his forbidden lover, Sara, set out to stop them.
Reviews
One star for the dwarves because they are funny (and good in this), one for Emily Blunt because I love her (she's great in this too) and one for Chris Hemsworth because he's gorgeous and everything else about this movie is god awful. This is another one of those movies with shoddy writers must have written this by throwing darts at a board... ok so the darts landed on 1) quest for lost item 2) evil queen 3) love wins and 4) couple who hates but secretly loves each other ...but that's not even the worst of it. Jessica Chastains terrible Scottish accent is encredibly distracting, I mean it is god AWEFUL! Why the director didn't just tell her to stop and use her own accent, I have no idea but he/she should have. It's very obvious that she's not pulling it off so that was a massive drop of the ball from the director. Chris' isn't much better ether but his Australian accent covers it up a bit.The chemistry between JC and CH is non existent and the one liners are boring and predictable. I haven't watched Enchanted but it seems like this might be the live action version of that, it's also very close to the Chrinicals of Narnia. The ice queen story has been done before and it's always done the same so something new for her story would be nice because she's a cool idea.This movie would have been better as a made for TV movie because it reminds me of those awesome but cheesy D&D Sunday night TV movies. That way they wouldn't have wasted all that money and people wouldn't have disliked it so much because they would have accepted it for what it is and not expected to much from it.
... more
Mirror mirror on the wall.. Define me a good movie. Oh that is very simple - a movie that is entertaining, relaxing, makes you smile, address your imagination, it has a good pace, you're not bored one moment and you come back to see it. This movie - has all that. I cannot think of a better movie than this. For me this felt more like LOTR but more chilled and I had more confidence in Chris. I made an account to write this review after seeing the existing reviews. I hope they will make more of it. Thinking of better movies... Warcraft? Is good but the rhythm is not as good nor is it so positive and relaxing. No country for old men? It has a rubbish ending. True Romance? Maybe... that also has moments where you want to ff. RocknRolla? Masterpiece but is a bit too urban for me. Edge of Tomorrow - second half is not as good - I keep watching only first half. Sicario, Pirates of the Caribbean, Payback are also getting close but The Huntsman - both movies - have something different - a flow of energy and continuity which none other has.
... more
Even such a collection of stars - so appealing on their own can't save a movie which has a bad story that I actually was bored most of the movie. I love almost everything Jessica Chastain and Charlize Theron do. But there is no saving this terribly weak story.The good points: 1. Emily Blunt looks pretty here - more so than usual. 2. Charlize is stunningly beautiful as well. The costumes of the 2 queens are grandly done. 3. Jessica Chastain is good at action.The bad points: 1. Couldn't understand what Chris Hemsworth was saying. They should have abandoned the Shrek like Scottish accents 2. The dwarfs weren't funny 3. The story is absurd - looking for a silly mirror and killing her niece.Terrible. Serves them right for dumping K Stew.
... more
I'm not going to say much about this movie, I'm sorry that people have experienced this movie as "bad" while I think that's not the way it is. The interpretations are okay and the story is really nice when you think about it. It's one of the few movies that have kept me fascinated lately compared to other blockbusters. I found the visual effects fantastic, you never knew what would happen next and it was not predictable like other movies. The trailer of the movie just made me curious enough to watch the movie and I found it fantastic.
... more