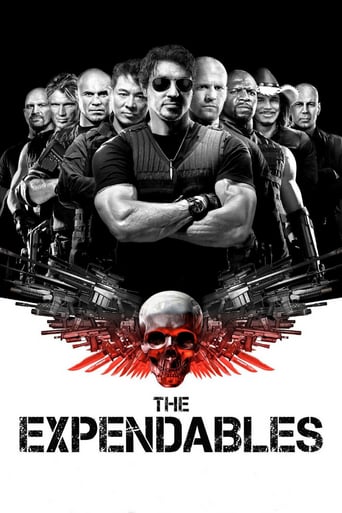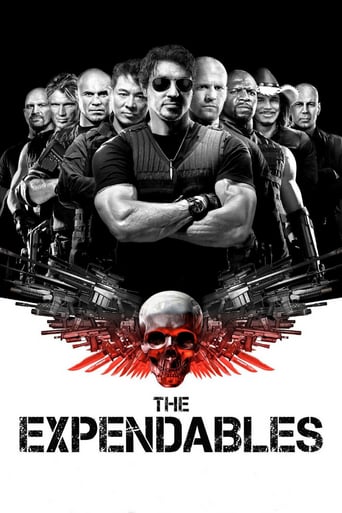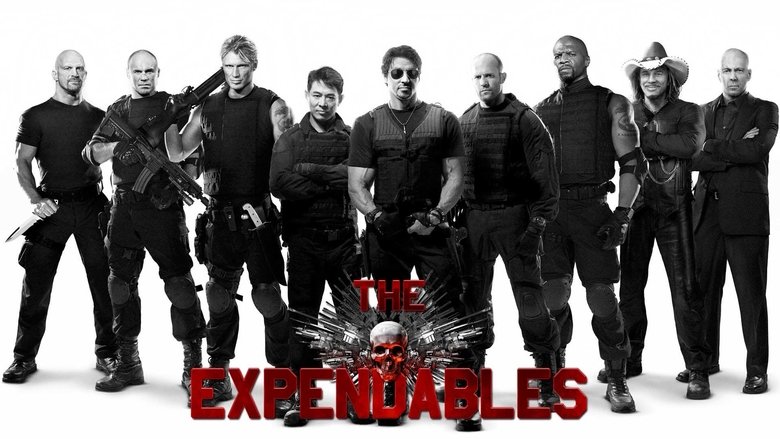 The Expendables
August. 03,2010 R
AD: This title is currently not available on Prime Video
Barney Ross leads a band of highly skilled mercenaries including knife enthusiast Lee Christmas, a martial arts expert, heavy weapons specialist, demolitionist, and a loose-cannon sniper. When the group is commissioned by the mysterious Mr. Church to assassinate the dictator of a small South American island, Barney and Lee visit the remote locale to scout out their opposition and discover the true nature of the conflict engulfing the city.
Reviews
Nowadays almost all filmmakers believe they can only make a good movie by adding loads of special effects and lots of huge explosions
... more
I was going to give this film two stars, then I thought, what the hell is the extra star for. The cast of this film is great, you could do so much with this premise, you just need a plot. After just finishing this movie I genuinely couldn't tell you what the story was, partly because it was too boring and also cause there was no plot.Dull set action pieces with zero stakes. No one has any rational motivations for anything they are doing, the bad guys are so lame it's funny. The good guys on the other hand seem to be bullet proof, surrounded by a thousand troops the five or so men easily triumph. Cliched, boring and predictable, this one doesn't even deserve 2 stars.
... more
To be terribly honest, Expendables isn't all bad; it's technically accomplished. But there is a reason why the best action movies have simple story lines, because you aren't able to balance between a believable and reasonable motivations as justification for the visceral action sequences. Something will have to give; and that can break the film. The Expendables is such an example. I think Stallone is an accomplish director but as a screenwriter, he's just not that very good. The first problem is the damsel in distress. To wage a war against an island nation to save a girl is simply preposterous; no man in their right mind will commit to such a unworthy endeavor. Barney Ross wants to be a white knight, but instead, this film he just comes across as a muscular beta male simp. Dolph Lundgran's character is absolutely unnecessary and his quarrel with Barney Ross is ludicrous. Jet Li's character is also quite unnecessary and even his action sequences were boring and unimaginative. David Zayas, Eric Roberts and Steve Austin was wasted in this film, as their roles were 1 dimensional and lacked any credibility. The hand to hand combat was simply tame, slow and weak. it simply showed these guys were too old to do this. What is good about the film is are the explosions, flight scene, chase scene and the gun fights, which I thought were very well shot and executed. And the script had the occasional great moments, with the banter between Barney Ross and Lee Christmas being the most interesting. Sigh.
... more
The ExpendablesLet's face it if you grew up in the 80's then you grew up watching these guys. Sly, Arnie, Willis and Lundgren where a staple for the youngsters of that decade. Along with a whole host of other stars, some also featured in this movie. Films such as First blood, The Terminator and Die Hard were big business and the stars of such were superheroes of the time. No tights or cape needed. Just bulging biceps and the well timed one liner. Fast forward on to 2010 when this flick was released and todays youth are fed a diet of Iron man and other marvelicious delicacies. For the grown ups action stars now come with a PHD. Jason Bourne has moved the action genre on forcing even James Bond to step up his game. The Expendables goes back to old school action. A flick that could have come straight from the 80's. But let's face it, getting Rambo, the Terminator and John McClane on screen together back then would have been impossible. Just think of the budget needed just to pay their salaries. Every young boy in the world would have exploded in their cinema seat with excitement. Probably every boys father too! In 2010 it's a reality and you've got to admire Sylvester Stallones business brain. Rocky sure knows how to make a dollar or two. He's selling us nostalgia and we'll eat it up because nostalgia is good. Take the A Team movie that was released around the same time. It flopped slap bang on its ass because nobody wants to see someone else playing their beloved heroes. We want to actually see our beloved heroes. Can you imagine if Mr T and the original gang returned for that movie if it was possible. Everyone would have flocked to the cinema to see it and I would have pitied the fool that didn't. Stallone's action mash up reminds us of an era when the cheesy action flick was something you looked forward to. A trip down to the local video store in hope that Rocky 15 didn't have that little red tag on the top of the box that said it was on hire. The Expendables is a silly film about fictitious good guys beating the snot out of fictitious bad guys in a fictitious country. That's it, plain and simple. No point in analyzing the plot because there barely is one. The negative reviews on here are ridiculous. They are over analyzing something that has been manufactured to wash over you. A product that allows you to take out your brain leave it on the side table and just be entertained. If you analyze the acting, script,plot,direction and every other thing then you've totally missed the point. If this type of movie isn't for you then don't waste your precious time watching it. You know what it's gonna be it says so right there on the tin. As for the rest of us, what's wrong with a little trip down memory lane? A walk down Nostalgia Avenue?
... more