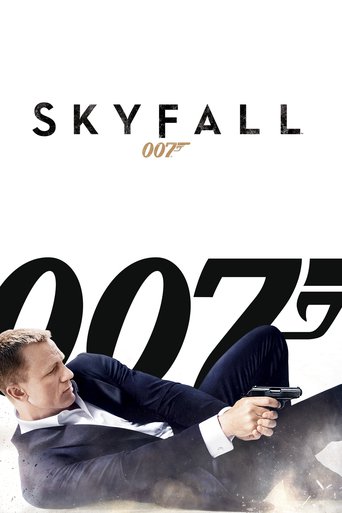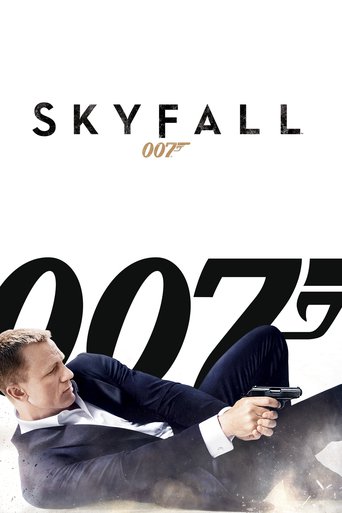 Skyfall
October. 25,2012 PG-13
AD: This title is currently not available on Prime Video
When Bond's latest assignment goes gravely wrong and agents around the world are exposed, MI6 is attacked forcing M to relocate the agency. These events cause her authority and position to be challenged by Gareth Mallory (Ralph Fiennes), the new Chairman of the Intelligence and Security Committee. With MI6 now compromised from both inside and out, M is left with one ally she can trust: Bond. 007 takes to the shadows - aided only by field agent, Eve (Naomie Harris) - following a trail to the mysterious Silva (Javier Bardem), whose lethal and hidden motives have yet to reveal themselves.
Reviews
Bond in transition and bond for the modern age in one film.
... more
This is truly the pinnacle of Bond films. Although perhaps not the best opening action sequence overall, it succeeds in introducing the tone of the film-- one that fits perfectly with the narrative. It also introduces Naomie Harris who is a welcome addition to this revamped cast. And maybe the animation sequence doesn't tell the best story, but it's so clever, and when matched with Adele's titular song, it is definitely the best theme.Early on Daniel Craig briefly sports a scruffy look. He doesn't come close to passing the physical. The psychological examination is clever. All of this and more builds on the approach Sam Mendes beautifully takes this film. And it's all backed behind a stellar cast. Ben Whishaw plays one of my favorite (if not favorite actually) characters in the young and arrogant techno Q, and of course adding Ralph Fiennes into the mix is awesome. This also marks the best narrative given to Judi Dench as the aging M (although give Judi Dench credit because she looks great for however many decades old she is).If you didn't know it was coming, I had to save Javier Bardem for last. He is a powerhouse actor who became familiar to American audiences with his villainous turn in No Country for Old Men (I'd describe his character as the combination of Joker and Two Face from The Dark Knight). Also shout out to his starring role in Alejandro Inarritu's foreign film Biutiful. And if you need any more evidence of his quality acting, look no further than his malignant and sophisticated role in this film. His introduction and monologue is memorable, his actions are remorseless, and unlike Christoph Waltz's antagonist in the sequel, the execution of his plan is smart and scary. Easily the best villain of this series.Something I haven't really discussed much from the other films but that is so vital to the success of this film is the cinematography. The film lost out to Life of Pi at the Oscars, but the shots of Shanghai-- in particular the silent action scene in the skyscraper is one of my favorites of any film-- are such a gorgeous combination of colors bursting from the dark surroundings (hmm, even a bit like the tone of the film).This movie is the perfect blend of old and new Bond. Throw on top a great character-driven story, and not only is this my favorite film of Daniel Craig's series, it's my favorite Bond film (admittedly, I need to re-watch many of the classics, especially with Sean Connery). And not only is it my favorite Bond film, it's just a tremendous film on its own. Multiple scenes always pop out as memorable, and the climax is simply fantastic. Even if you haven't seen Casino Royale, or any Bond film for that matter, I can't stress enough that to anybody and everybody I give a high recommendation to go watch Skyfall. You can find this review and dozens of others at gillipediamoviereviews.blogspot.com
... more
Me and my oldest son have been doing a bit of pseudo binge watching of James Bond. Every weekend we have been watching two of the movies starting with Dr. No quite a few weekends ago. Last weekend we arrived at the Daniel Craig ones. I had actually not watched those ones before. I have to, grudgingly (I am a Sean Connery fan), admit that the first two we watched were not at all bad.However, today we watched Skyfall. What the f...? This is not a James Bond movie! If it had been just some other movie I would probably have thought it would not be a too bad one. However, it pretends to be a James Bond movie and as such it is utter crap. It is a bloody Hollywood drama written by someone with a total lack of respect for the Franchise, not to mention the old Bond fans.James Bond should be out hunting international villains. Villains with a good chunk of bad guy charisma I might add. What we got however was some loathsome prick having a grudge because M didn't come to his rescue when he fucked up.The British Secret service should also be just that, a powerful organisation protecting Britain (and the rest of the civilized world) from communists, terrorists, criminal superorganisations like Spectre or whatever. Having scenes with M more or less on trial and having to defend herself in front of a bunch of clueless political asshats is just crap and it is definitely not the kind of crap that should be in a James Bond movie.The whole movie is just full of sensationalist shit, politically correct crap, killing of popular characters, sentimental bullshit and other nonsens of the kind you would expect in a bloody Hollywood soap opera. And what about the new Q? A boring brat with a over-inflated ego. Not fun at all.Even the special effects are debatable. For example, if you make a subway train crash by blowing a hole in it's path then for Christ sake put some crash test dummies or something in it to at least make some pretense of it not being an empty mock-up!This is undoubtedly the worst Bond movie ever. My disappointment with this movie cannot be overstated.
... more
I liked the opening. This is where belong my two stars. The Bond opening are always beautiful. Actually I'd rather watch 2 hours of Bond opening instead of this garbage. 1. Daniel Craig has only one expression. No wonder he doesn't pass the psychological test in the movie. Maybe it was the actor answering. How could he pass the casting. Remember Pierce Brosman, his fine humour traits ? What happened to Bond's personality ? 2. My Lord this movie is so sexist. Women just fall drooling in Bond's presence. Their only goal is to go in his bed. The random sex scenes are killing me. Is it Game of Thrones ? Funniest example is first car chase, when his female colleague is driving, and he actually push her, take the driving wheel to turn on the right. Because she could'nt do it obviously LOL 3. The plot is ridiculous and predictable, with cliché hacking like it is a superpower or something. 4. Bond risk his life to chase a ...guy. Why ? Couldn't you, like, make a police perimeter instead of running if a GOD DAMN TRAIN ??? Can't you just take the actual elevator instead of hanging yourself to it ? How does that help you chase the guy ??? He could just have called the button XD So yeah, a hilarious pile of cinéma clichés. A skyfall on action-movies. I don't recommend.
... more