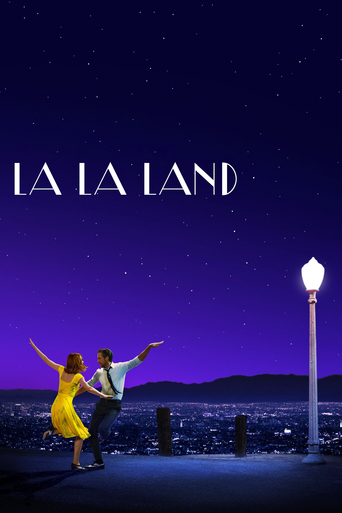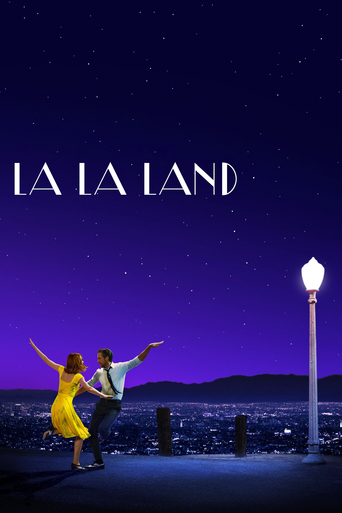 La La Land
November. 29,2016
AD: This title is currently not available on Prime Video
A jazz pianist falls for an aspiring actress in Los Angeles.
Reviews
Am i a fan of musicals ? not exactly mad about them but i was willing to sit through these two hours of film simply because Emma Stone is my favourite actress and i ran through all 17 of her films and wanted to finish with this as the crowning jewel y'know the one she got an Oscar for... and to be honest the movie was pretty good as it started with the joyous charm and combined charisma of Ryan Gosling and Emma Stone you had it on the money for a great Movie putting show business in a very legitimate light showing the pros and the cons and the sacrifices you make to balance out real life and Celebrity Life the ending was obvious as it is a RomCom in the end it was going to be the Happy Sappy ending that we all know and love and i would have been more than happy with such an ending... but then they messed with it... now i'm all in for philosophical movies or movies with ambiguous endings that keep you thinking and inspire you to approach things differently but that's a secret ingredient that only makes things better however this isnt how this movie handled itself : giving you pancakes for breakfast, Turkey for lunch and a vial of potassium cyanide (Poison) for dinner! so for those that havent watched it and want an ending that is such an infuriating kick to the balls so much so that i threw my popcorn to the floor and left, i felt so insulted which was weird because i never take movies so seriously, anyways the Two people on the poster you know those with the perfect chemistry and amazing wit to back eachother up ? those that would've made for a really good ending together ? she (Emma Stone) goes to paris for five years, gets married and has children then goes back to see him (Ryan Gosling) in his Jazz club with her husband!, he is absolutely devastated plays a sad note on the piano but then... what happens exactly ? i'm not sure, there is this montage with everything that had gone wrong in the movie reversed... he attended her play and her play was loved he married her he had children with her and opened his club in paris instead... her audition is accepted her life is wonderful aaand we suddenly switch back to reality... Ryan Gosling is still the one playing the sad note and she gets up to leave with her husband, both her and him look at eachother eyes filled with tears and then she leaves for good... THE END... i absolutely despise this movie right now... now i would never give it a 1 no that's not fair i give it a 3/10 for the sheer star power and colorful sets which was all ultimately ruined by the horrible horrible ending... people don't get that Romance is never about a brainless tragic ending there was also that other dumb movie called "The Fault in our Stars" the same issue, it gives you hope then ends it with a middle finger as a gesture La La Land's ending was such a depressing downbeat ending i'm so mad at it right now... writers, you had one job... and you blew it...
... more
Between reaching your dreams and staying with the one you love, which choice do you make? Stone and Gosling's characters develop a true love, one bound by music and appreciation for eachother's artistry, but like real relationships, small cracks start to appear when the characters choose one over the other.Suddenly, their dreams seem too far apart. This movie does a great job of romanticising the concept of finding a true love, only to have it crashing down. The final moments of the movie are the most powerful I've seen in a completely different way than the Titanic. Never has a romance movie shown the feeling of regret so captivatingly.The cinematography and location is also beautiful, the one shot take of the jazz band and the dancing scenes are gorgeous and the movie leaves you feeling nostalgic.
... more
I miss the days when Hollywood didn't have to throw their shoulder out of joint patting themselves on the back for being hip and clever because they actually WERE hip and clever! This movie is nothing more than two hours of Tinseltown sniffing its own farts and trying to convince us that they smell like roses. Never have I heard such bland and uninspired music accompanied by a horribly pedestrian excuse for "dancing". The blueprint for how to do the perfect musical was laid down 64 years earlier in a little movie called "Singin' in the Rain" ! The filmmakers here seem to have learned nothing from that movie...the characters are shrilling and annoying, the plot, barely existent, and the chemistry between the two leads...well, it just falls flat. I had high hopes for this movie but, in this day and age of lowering the bar on just about everything, I should have known it would be rated far higher than it deserved.
... more
After hearing all the praise and glory of this movie on the radio and TV, I've decided to give it a chance and couldn't believe what I've seen. There were terrible numbers, terrible dancers, terrible acting and terrible songs. I could hardly get to the end of this movie as it was a complete torture and pain for my ears and eyes. The main actors can't sing and can't dance, the songs are of the same low-level and it all seemed to me like a low budget movie. Hearing it'd got so many Oscars was no doubt the last nail in the academy's coffin. What were they thinking ? Oscar for what ? Two new actors that bring nothing to the screen ? No feelings no acting no singing and no dancing - nothing ! Look carefully at their dance - they simply can't and don't dance. Hear carefully their singing - they can't don't really sing. Do you remember any tune from the movie (other the one they keep playing on the radio) or any dance ? This was a clearly PR movie full of buzz and empty inside. I highly recommend avoiding this one. Don't see, and don't waste your time on it. If you wan a musical to love - see The Greatest Showman - that's the right way to go..
... more