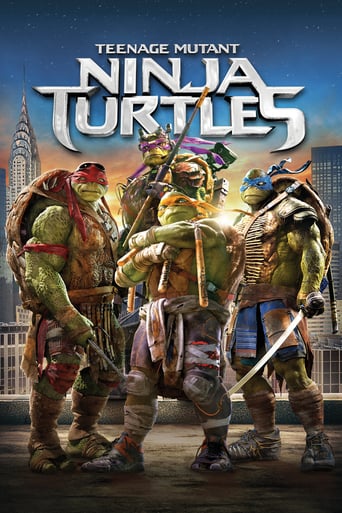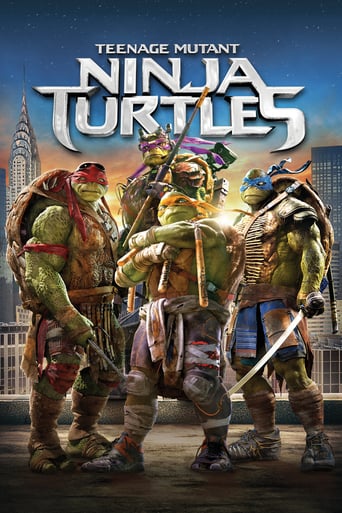 Teenage Mutant Ninja Turtles
August. 07,2014 PG-13
The city needs heroes. Darkness has settled over New York City as Shredder and his evil Foot Clan have an iron grip on everything from the police to the politicians. The future is grim until four unlikely outcast brothers rise from the sewers and discover their destiny as Teenage Mutant Ninja Turtles. The Turtles must work with fearless reporter April and her wise-cracking cameraman Vern Fenwick to save the city and unravel Shredder's diabolical plan.
Reviews
These days just these funny and hot personalities can make a movie great. We must forget some simple characters belonged to the the past ages.
... more
This is another movie retread of the four ninja turtles. This time, they must face Shredder and his evil Foot Clan in New York City to defeat their power over the city's authorities.While the action was pretty intense and fun and the acting was OK, there is really nothing new in plot to the movie that we haven't seen in previous TMNT films. The main difference is the heavy use of CGI and modern-day technology references.I personally prefer the original 1990 TMNT motion picture, which was cheesy at times, but had character, humor, realistic-looking costumes and a more fast-paced and engaging story-line.Grade C+
... more
I went into this movie expecting some light-hearted entertainment. Unfortunately, this movie is so full of *glaring* stupidity that I could not watch it all the way through. The following will contain spoilers, however they won't spoil this rotten movie. Just don't watch it. ANd don't make your kids watch it if you'd like them to grow up smart...It all started with April O'Neil who is obviously an imbecile and contrary to her aspirations she's well-placed in her job showing her face to the masses but leaving actual journalism to others. Apart from the fact that she just acts like she doesn't know what she's supposed to do (script anyone?), she tries to convince her boss to run a story on a vigilante with "that's the point, there's nothing!" – really? Yes, her boss is supposed to shoot her down in the beginning so she has to be the loner investigating on her own, but who could take that seriously? Her next try is even worse: instead of just showing her boss the video she made the night before, she raves on about talking turtles that only she herself has seen... Who wouldn't fire her after that? Then there's the focus on April. It's totally fine that the movie would start with her, seeing as the turtles are to be introduced as ninjas, which means they are usually invisible, and the initial perspective should really be with the normal populace so you can get into the mood. However, her presence is really annoying as early as the second scene with the turtles. The first one was OK, but now that the turtles rather visibly beat up some mooks, we see the woman's face more than half the time, and most of the rest, you just see the mooks flying around.Next up, the villains: they're kind of bland in the beginning, and it just goes downhill from there. Shredder's first appearance mainly consists of him being told that a bunch of batmans on crack just mopped the floor with his mooks. For a powerful man he's rather irritable, angrily ordering their deaths by any means necessary. But then again, maybe he's just an angry man with a short fuse – that actually could happen, so yeah. But when he actually joins the fight, he's not really a ninja master, but more like the carrier suit from "Aliens" (or "Alien 3"?) with some additional mechanic arms mimicking his natural arms and equipped with a bunch of throwable serrated swords?!? What? the? hell? That's not cool, that's just dumb. Let's not forget his "right hand minion", Dr Sacks, the rich scientist who wanted to use the substance that created the turtles for an evil plan he had with Shredder. And since he likes to brag, of course he tells the turtles this grand plan, and has it kind of (not really) illustrated by having one of the mooks murdering before their eyes. Their plan actually was pretty simple: poison the whole city and then sell the cure for lots of money... Erm yeah, sounds like the writers tried to copy the plot of "Batman Begins" but failed to understand the subtlety in the League of Shadows' objective of actually killing everybody and not saving them for money. And why would Shredder even hatch a plan that just benefits his pawn's bankroll? It's just a very stupid excuse for a plot.There's one major aspect I left out so far: the Turtles themselves. They are the only thing that was not completely botched in this obscenity. The CGI was decent, their characters were mostly well portrayed, and the choreography was nice. Then again, their fighting was more like the Hulk than the Batman, and we all should know which of those is a master ninja. Just because they're green doesn't mean they need to resemble the big green guy who "SMASH" everything... In the subway scene, they first toss the mooks around like tennis balls before leaving them tied up in a neat row. That just doesn't mesh. Batman does beat up mooks and leaves them tied up, but he beats them up ninja style and actually needs more than a second to tie up two dozen guys...So all in all, just a stupid movie, in the bad sense. If you don't know the good sense, watch "Deadpool" – that's a stupid movie, as well, and it's a hilarious, well-made, movie. Also, I usually don't review movies, but this one is so bad, I felt I had to. Don't watch this, watch "Deadpool" for light entertainment or "Batman Begins" for ninjas.
... more
I have been watching Teenage Mutant Ninja Turtles without expectations , more even excited , because I be fa of the characters , the more the film turned out to be neither good nor bad, weak, the look of turtles this very good, like this new look, more film has enough explosion, explicable when we see that Michael Bay is the producer of the film, the script is weak and full of errors , the pace is more or less , the cast is average , Megan Fox expressionless , plus at least the turtles are worth ticket because they are very funny , more Teenage Mutant Ninja Turtles is just weak, has even legal moments , has a more problematic script, weak performances and a bad direction. Note 5.3
... more