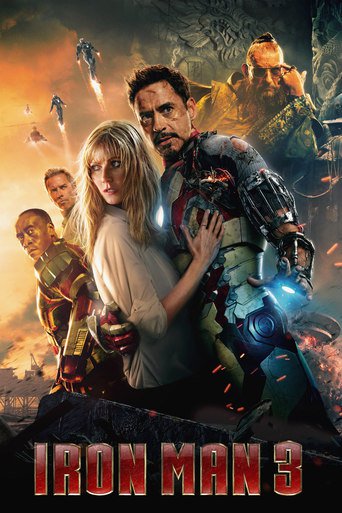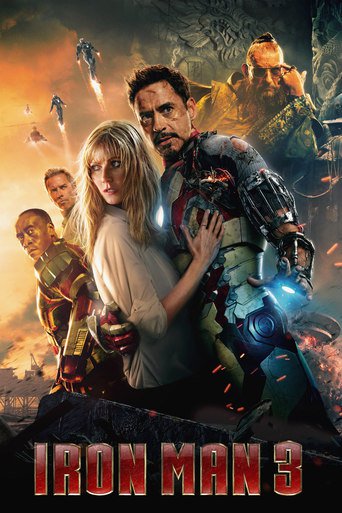 Iron Man 3
April. 18,2013 PG-13
The brash-but-brilliant industrialist Tony Stark faces an enemy whose reach knows no bounds. When Stark finds his personal world destroyed at his enemy's hands, he embarks on a harrowing quest to find those responsible. This journey, at every turn, will test his mettle. With his back against the wall, Stark is left to survive by his own devices, relying on his ingenuity and instincts to protect those closest to him. As he fights his way back, Stark discovers the answer to the question that has secretly haunted him: does the man make the suit or does the suit make the man?
Reviews
The Iron Man films are like pizza: even if the product itself isn't as good as the last one you had you get a full-belly's worth of nourishment and satisfaction all the same. Marvel manages to make decent movie after decent movie almost with all-too-much precision. They have a working formula of 'hero being more interesting than the villain' and unfortunately Killian is simply too un-compelling a villain to be invested in; he's there because he's played by Guy Pearce. With that said, Robert Downy Jr. gets time to shine as a desperate Tony Stark who has to take on baddies without his iconic suit.Iron Man Three is not the best of the MCU films but it's still a good action film nonetheless.
... more
The craze for Robert is alone enough to lure the public into watching this movie. Moreover the dismantling and assembling of the suit is another interesting feature. The graphics were good and so was the twist in the end when Gwyneth gains the powers and saves Ironman. Interesting.
... more
It is easy to say than it is the best from the three parts. for story. for the portrait of Tony Stark. and for the not bad image of essence of politic. and, sure, not the last, for fireworks, heroism, dialogues, love story and performances. but the story remains the best thing. defining it not only as a lovely story about humanism and end of a too long age of a sort of Peter Pan.
... more
Iron Man 3 (Three), follows Tony Stark after the events of The Avengers and the effects that have come from it and the people around him too. With him having borderline PTSD and a new villain that has an odd connection to Tony in more ways than he would ever want.Iron Man 3 is the first film in the trilogy to not be directed by Jon Favreau but still include him as the memorable and lovable Happy. But instead of Favreau, Legendary writer and director Shane Black takes over with being silent for nearly a decade of not working on any films to break out again with the biggest solo film yet. Black directed the hell out of this third installment and yes there is a tone change from two to three but the barebones of the series are still their with a new and original story and a whole hell of a lot of amazing action sequences. And with Black building a lot of the sets and doing a lot of the stunts in real life instead of digitally adding it in makes this film feel real. Writing wise, the film is overall extremely good, one major piece of the film I didn't like too much but the overall film is very enjoyable and fantastically written as well. Robert Downey Jr. hasn't felt more comical or broken, depending on what way you look at him, with the fantastic writing of his character. Each character in the film has a sense of comedy in a lot better ways than they did back in Iron Man 2 and it makes the film feel a lot more light hearted and more fun as well. And with the physical comedy like Mark-42 and his imperfect quirks in the film with him being a prototype suit makes the film feel real showing a fractured Tony that isn't at 100% and is almost caught off guard in every scene. My biggest issue is during the third act the 'villain' comes off very awkwardly and somewhat upsets me with his write off and destruction of the iconic comic book antagonist. The acting is amazing though with Guy Pearce and Sir Ben Kingsley joining the cast and making some memorable performances throughout out. Obviously Downey Jr., kills it with such a different look at his iconic Tony Stark with him being broken and knocked down from The Avengers and his personal ties in this film. Cheadle also is great with his best performance in the series yet in this film with his dialogue feeling more smoothed out than in Iron Man 2. And of course my favorite performance done by Pearce is haunting and definitely makes a huge impact on the series and shows that the MCU can make a good villain in a stand alone film. With one flaw that is pretty big, this film is great in a lot of other ways and makes the perfect end to a great trilogy. Iron Man 3 gets an 8.75/10
... more