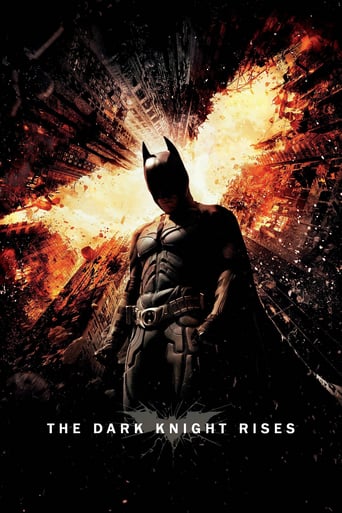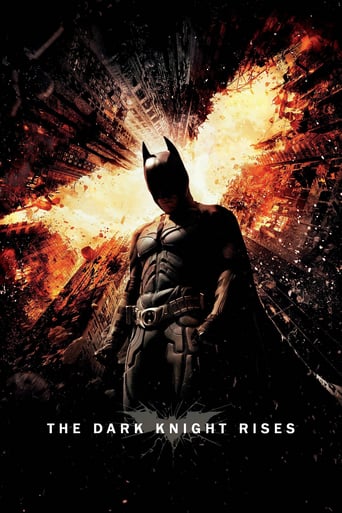 The Dark Knight Rises
July. 16,2012 PG-13
AD: This title is currently not available on Prime Video
Following the death of District Attorney Harvey Dent, Batman assumes responsibility for Dent's crimes to protect the late attorney's reputation and is subsequently hunted by the Gotham City Police Department. Eight years later, Batman encounters the mysterious Selina Kyle and the villainous Bane, a new terrorist leader who overwhelms Gotham's finest. The Dark Knight resurfaces to protect a city that has branded him an enemy.
Reviews
The writing is horrible and the pace is agonizingly draining.
... more
Simply the best Super Hero trilogy movie ever. And this, the conclusion to it, is absolutely stunning. Simply a great movie, from the cast, to the story to the ending which always chokes me up. I never get tired of any of these three movies and all other trilogies are looking up at these.
... more
Batman Begins was a nearly perfect origin story, The Dark Knight is among the best sequels ever, and probably the finest comic book film ever made.. the third entry however is almost like everybody was "well let's just be done with this trilogy, people will love it anyway!" and most people actually did.. But the truth is this is full of plotholes or just lazy writing, dumb moments and worst of all wasted potential! This could have been so good, the premise is great, the talent behind it(both behind and in front of the camera) is phenomenal and yet for every good, cool or awesome thing in this, there are twice as many irritating, stupid and downright counter-productive moments that tear down important points the first two movies established. The villains plan from the first movie for Gotham doesn't make any sense anymore.. the whole point of the end of the second movie loses it's meaning.. the ending is absolutely atrocious and goes against the character of Batman and also is cringeworthy as hell.. This whole movie is a mess!
... more
The Dark knight rises ends what can be considered one of the greatest trilogies in all cinema. On its own this is a great, long film containing some amazing action set pieces- especially vehicles but the fact remains that there are many underlying themes about human nature and mortality at play here. Christian Bale dons the batsuit one last time for Nolan but it is Tom Hardy as Bane who steals the show with his raw energy. On its own this is a must watch but when seen as a piece of a trilogy this is not to be missed. (Concludes one of the greatest series in all of cinema)
... more