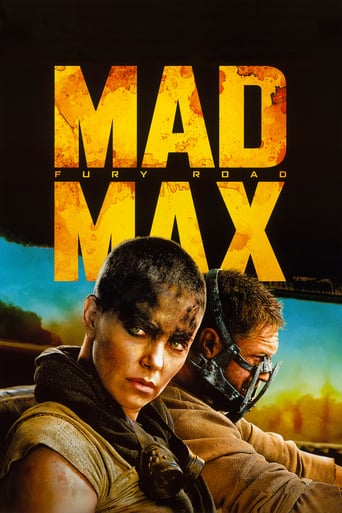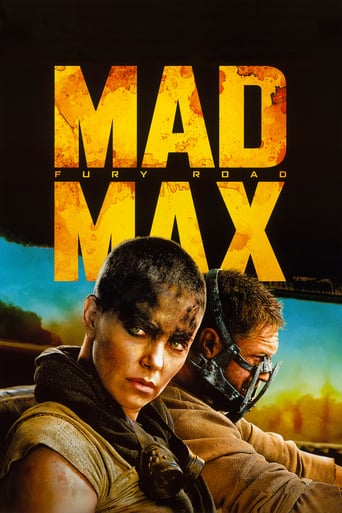 Mad Max: Fury Road
May. 13,2015 R
AD: This title is currently not available on Prime Video
An apocalyptic story set in the furthest reaches of our planet, in a stark desert landscape where humanity is broken, and most everyone is crazed fighting for the necessities of life. Within this world exist two rebels on the run who just might be able to restore order.
Reviews
Mad Max: Fury Road is savory adrenal pleasure. Max (Tom Hardy) pinballs across the raging wasteland, shedding enemy and emotional debris. He finds opportunity for personal redemption through the valiant Imperator Furiosa (Charlize Theron), on her own purgatory path, linking for a shot at freedom. The film unites masculine and feminine in partnership as Tom Hardy and Charlize Theron, rabid death in pursuit, blaze toward their better selves. The screenplay pops with flair, from Nux's (Nicholas Hoult) turbo-charged suicidal outbursts to The Dag's (Abbey Lee) wispy, mirage-like commentary. Nicholas Hoult vamps the half-life warboy to full capacity in Nux, who transforms when he realizes his deity is a false protector. He taps a wide range of emotion, erupting with the fervency of suicidal service, changing to shame, and then humble helper of the war-rig. His evolution the most extreme, Nux secures an honorable death with a well-deserved "witness me."Tom Hardy channels Max's craze in grunts and jerks, saving the occasional verbal gem for life's insanity. He fights with an anxious yet self-destructive ferocity, equally as willing to die as redeem himself. His recklessness finds its match in Charlize Theron who, also ablaze for redemption, sparks a scrap with Max that pits raging energies against each other to a dance-like tempo. An explosive display of aggression is capped with the click of clip and gun, linking Hoult, Hardy and Theron in righteous fury.The brides, an assortment of mystic, snappy, and rebellious beauty, are given space to shine in their own light. They melt from herd to individual, and bloom with unique contributions. The film contrasts beauty with a rich assortment of spikes, scars, boils, and flames among the war clans. The three war parties ride full-throttle with uniquely grotesque mascots and vibrant absurdities, such as the maniacal flame-shooting guitarist. Make-up and cinematography flourish over a dusty backdrop, emphasizing the color and flair of life at the edge of destruction.Sparse moments of companionship and sorrow splash humanity over the story, adding soothing emotional balance. The film synthesizes extremes of violence and compassion to a high energy soundtrack and raging, emotional climax, leaving us caked in dust and thirsty for more. "Where must we go...We who wander this Wasteland In search of our better selves?" The First History Man
... more
Literally the only thing that holds this movie back from being truly amazing is the fact that it's got such a weak plot and script. Couple of rogues travel out into the middle of nowhere to the woman's homeland, then basically head back to where they started out from all the while being mercilessly harassed by the various hunting parties/clans or whatever you want to call them. That's pretty much the long and short of it. Hardly any character development to go with it which just makes the plot even more redundant. The two main actors, Hardy and Theron, are dreadful on screen. No chemistry whatsoever between the two and apart from some occasional (and weak) dialogue, the main interactions they tend to have with one another is either fighting or pointing guns in each other's faces.James Cameron said it himself, "When you're making a movie, if you have a good enough story, everything else will fall into place and you'll have a great film" and that's not just coming from any ordinary film maker, that's coming from the guy who directed Titanic. George Miller should definitely take notes!Obviously the one thing this movie will shine for is the visual effects and the action sequences. I admit they are ridiculously well done and it is a very entertaining movie to watch if a bit of mindless fun is what you're after. In terms of action, Fury Road hardly lets up for a minute and is entertaining as hell from start to finish, but falls short due to its dull plot and a complete disregard for character development. Fury Road is very much one of those Yin and Yang situations, you're either going to love it, or hate it. Check it out anyway; it's definitely worth seeing at least once.
... more
Just one positive thing about this movie and that is the atmosphere, nothing more than this.
... more
How original! Ocean's 8 or Ghostbusters or Star Wars or Star trek or??????Hollywood is such a cliche. Enjoy going bankrupt.I am a man and I like manly men who get slender hot flaunting chicks. That is the formula to get my money.
... more