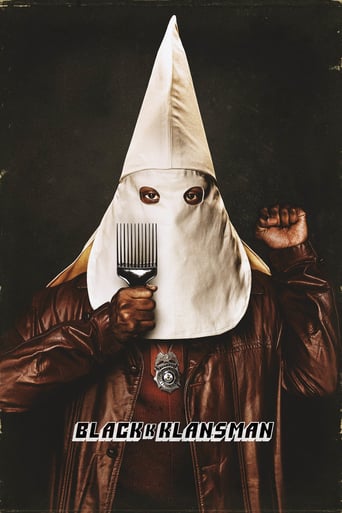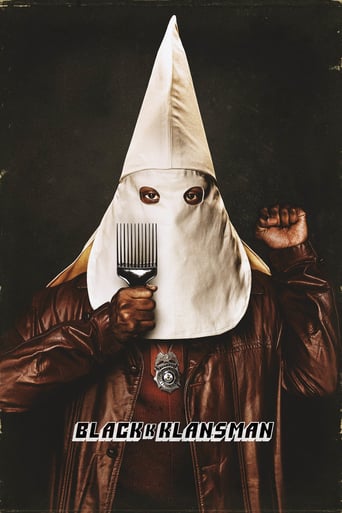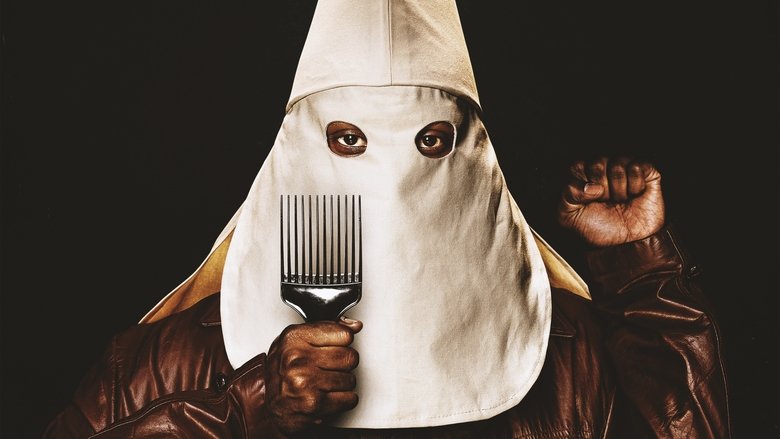 BlacKkKlansman
July. 30,2018 R
AD: This title is currently not available on Prime Video
Colorado Springs, late 1970s. Ron Stallworth, an African American police officer, and Flip Zimmerman, his Jewish colleague, run an undercover operation to infiltrate the Ku Klux Klan.
Reviews
Great story, great cast, respected director etc. but this just feels like less than the sum of the parts. I loved the 1st half but in the 2nd the tone is too erratic and there's many bits that are just plain daft. The political message could also have been handled better I thought, all valid and essentials point but the Trump comparisons felt shoehorned. Despite all my criticisms I still liked it, it looks great, the acting is excellent and there is a lot of directorial flair on show.
... more
A genuinely disturbing exploration of racism in America disguised as buddy cop comedy. Don't let the trailers fool you, this is a fiercely political film that does not shy away from the horror of its central theme. And though I squirmed many more times than I laughed, BlacKkKlansman manages to entertain as much as it unsettles. Spike Lee smartly chose 70's blaxploitation as the framework for the film which enabled him to inject some levity into a subject that could've otherwise been harrowing and indigestible. With that framework, he has crafted a film which is equally playful and disquieting, one which is able to joke about the absurdity of racism in America all while impressing upon the viewer how far from a joke this really is. Some may call the ending cheap and sensationalist, but it undeniably pulls the rug out and forces you to simmer in the harshness of reality. It's a film that goes down easy only to linger in your stomach like a rock.Strong 4/5
... more
There is much to like about this film, but I only give it a 6/10, blaming most of the negative aspects on Spike Lee's direction. There are more than a few very good acting performances: Washington and Driver, and several of the Klansman, especially the husband-wife duo (especially when contrasted to the poor acting of the "bad cop" character). But Topher Grace as David Duke is a great, spot-on portrayal of the smarmy, "marketable" klansman David Duke.. I was less convinced by the love interest/student activist and her relationship with Washington's character. The film suffers from an identity crisis, not knowing whether to be a drama or a comedy. This would have been a better story to be made as dark comedy (maybe like "I, Tonya" (9/10)), or maybe an action, suspense drama. But instead it meanders throughout much of the film. When it's good, this film is superb, but there is much dead time in it. The long speeches greatly slow down the pacing of the film (and I'm NOT a person with a short cinematic attention span - I love "2001: A Space Odyssey" and the wedding scene in "The Deer Hunter"). A second long speech is a lost opportunity to build suspense. Lee tries but fails to build that suspense, with cinematic tools he should know how to use by now. Lee's attempts to tie the 70's Klan to Trump were forced and at times insulted the intelligence of the audience (Did he really think he had to repeat a Trump catch-phrase over and over and over . . . or we'd somehow be too stupid to get his point?). Factually,.this former Colorado Springs resident can accept (for cinematic reasons) moving the mostly flat city of Colorado Springs to the hills (Spike's city looks more like neighboring Manitou Springs). At least the Black Student Union sign was written in the correct Colorado College Colors. Go Tigers.
... more
First off I'll say that seeing Jordan Peele's name on the credits and the trailer set my standards really high. And for the first half or so the film genuinely did seem interesting. There's no real conflicting values going on. As soon as Ron's love interest starts to question him, he just gives his view and they walk off. And then after the explosion, they're happy again. What. At the initial rally with the black activist it seemed like a genuine internal moral conflict would start to brew, with the way the scene was paced and the great acting from Corey Hawkins. But nope, nothing was jeopardized; nothing happened. Every single time something seems to go wrong everyone just walks it off. The lack of character development was just plain annoying.The pacing was just awful as well. When the car with the klansmen was driving to the house near the end, there was no change in music, or even camera angles. They give you this enormous build-up with the whole meeting with David Duke and the seemingly botched plan, but it only ends up with an explosion that solves the whole problem. No sense of suspense or intensity at all, even though there was a bloody bomb involved. The scene was saved when the police mistook Ron for a rapist, but again, the scene was too slow and there was no atmosphere. What I thought was the climax with the old man's story once again didn't end with anything. I feel like this film was just taking the piss out of my expectations and robbing me of any enjoyment.And yeah, I did expect a stylish, fast-paced Tarantino-esque flick. But that's not even the issue. Everything is SO in-your-face, there's no interpretation left to the viewer, no hidden message or symbolism. The dialogue just straight up tells the audience what's going on. No sense of mystery, suspense or viewer involvement.And then the last part with the current footage was just milking it. Maybe it's because I don't live in the US. but it was just such an awkward watch, especially the flag bit. I'm surprised that was really the only violent part of the film.I think more people are too concerned with the message (which is of course legitimate and current), that they forget about actually being entertained. Before you accuse me of being racist, I myself am coloured and I ENJOY watching these types of films. This was just poor. There are much better movies out there.
... more